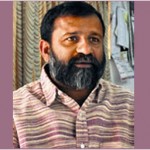 By Pallavi Bhattacharya in Mumbai

WHAT do we do when we see destitute people lying on the road abandoned and uncared for? If we look the other way and walk away, we are no better than the priest and the Levite mentioned in the parable of the Good Samaritan. They too passed by the man grievously wounded on the Jericho road. K M Philip, founder of SEAL (Social & Evangelist Association for Love) Ashram in Vangani, New Panvel in Maharashtra, cannot turn a blind eye to them, however.
Several years ago when he was on a short trip to Mumbai, a construction worker who was unable to look after his eight children approached Philip to take care of one of them – 11-year old Sagar. Though he was taken aback initially, Philip promised to pick up the boy a week later. When he returned later, he could find neither the boy nor his father. To his utter horror and shock, Philip learned that the boy had been run over by a bus.
Deeply disturbed by this incident, Philip was reminded of his calling in life through Proverbs 24:11: 'Rescue those being led away to death, hold back those suffering towards slaughter, If you say "But we know nothing about this", Does not he who weighs the heart perceive it? Does not he who guards your life know it? Will he not repay each person according to what he has done?'
Later, he did a course in social work from  SNDT  University. On November 15, 1999, he along with Biju Samuel founded SEAL in a rented room with a 9-month old HIV+ baby rescued from the red light area of Sonapur in Mumbai. Currently there are 65 men, 35 women and 41 children at SEAL. THE CHRISTIAN MESSENGER met with K M Philip. Excerpts from the interview:
In an interview, you said as a boy were not spiritually inclined and caused a lot of pain and anguish to your parents. That in your young age, you worked as a cadre for the Communist Party in Kerala, took to alcohol and ran away from home once. Did all these experience help you empathize better with the destitute?
As a youngster, spirituality never touched my life. I wanted to enjoy my life as others did. I joined the Communist Party as they stick to their principles. I respected the party's principles. The Communists did as they said. Ours was an orthodox Christian family. I, therefore, wanted to break away from all the shackles.  As my father was a priest, I was born and brought up in a parsonage. I wanted to come out of the limits set to me as the son of a Christian, minister. Running away from home was a way of adolescent rebellion.
I strongly believe in the predestination of God, the Almighty. It was the predestination of God that I should be conformed to destitute people and would later be into that ministry. Having run away from home as a teenager, I could understand how difficult life was for people on the streets.  This later helped me to empathize while working with street people.
What was the main inspiration behind SEAL?
My inspiration to start SEAL came in 1989 while traveling from Kerala to Mizoram. I saw a man covered with mud almost naked at a railway station. The man was fighting with street dogs for a piece of bread from the dustbin. I wanted to help people like him. The lines from Proverbs 24: 11, 12 echoed in my mind. In 1990, I committed my life to serve God. It's then that I wanted to work with the destitute people. I wanted to go out and be with them to wipe their tears. God showed me visions three times that I was to work with the castaways of the society. I   used to share it with my colleagues even as I had been praying about it for 10 years.
In 1999, SEAL Ashram saw its beginning with two mats and a 9-month-old HIV positive child called Reuben in a small rented room at Mumbra. We then shifted to Bhandup from where the society expelled us for housing HIV+ people. Later, we moved into Khoproli New Panvel and had a rented room. Then God strengthened us to buy a row house in Akurli, New Panvel. In due course, God expanded our ministry and helped us buy land and construct shelter homes for our residents. By the grace of God, we now have separate shelter homes for children, women and men. God has blessed us today with 13 acres of land in Maharashtra.
Till date, SEAL has re-united 125 people with their families. How do you mange to reunite the destitute with their families?
Over time, we are able to gather our inmates' details such as their native place, some landmark in their village or their parents' names. With whatever information is available, we trace their families with the help of police stations, NGOs and friends. For instance, we had a 100-year-old man who was unable to recall his address. He could just say what he was from 'Masila village'. We sourced the telephone exchange of Masila and contacted the local police station. The inspector of police found out that there was a 'man missing' complaint on this man's name. His children came and took back their dad home. We have re-united people with their families even after they were missing for 60 years. In some cases, as they are senior citizens their parents and siblings sometimes won't be alive any more.
Most people blame God for their sufferings and alienate themselves from Him. How does God's love transform the lives of your inmates who have gone through untold sufferings in their lives?
A true believer is someone who will praise God even amidst the most serious hardships. We talk less, but do the ministry with the love of God. We make the destitute realize that we are doing this with the love of God.
Readers willing to help SEAL can contact K M Philip at 09930993121/09819916486.
Email: pastorphilip [at] sealindia [dot] org | Website: www.sealindia.org
This interview was published in the March, 2010 edition of The Christian Messenger newspaper. To read the complete interview, call us at 91-44-65145334.
Follow The Christian Messenger on Twitter | Facebook