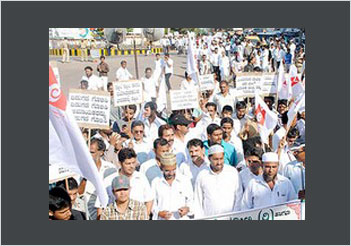 IN a rare show of religious camaraderie, Muslims in Mangalore, Karnataka, have staged a rally in the city to protest against attacks on the Christian community by radical Hindu groups.
Speaking on the occasion, convener of the Muslim Central Committee of Mangalore (MCCM) Ali Hassan said: "Christians educate children and provide medical care for elders. But they are rewarded with continuous attacks on their churches by Hindu extremists. This can never be Hinduism or patriotism."
The MCCM said it organized the rally to protest a Government commission report that exonerated Hindu fundamentalists from attacks on churches in Karnataka in 2008.
The commission headed by retired judge B K Somashekhara, submitted its report on January. 28.
A Muslim youth leader, Mohammad Kunni said it was unfortunate that the fundamentalists were trying to brand Muslims as terrorists and Christians as conversion agents. Christians, Hindus and Muslims live together in Indian villages sharing joys and sorrows and transcending social and religious barriers.
Former state Women's Commission president Philomena Peres said the government had 'wasted' huge amounts of money in producing a 'biased and unjust report' on anti-Christian violence.
As many as 2,000 people joined the rally which started at a local mosque an ended at the district commissioner's office. The Muslim leaders later presented a letter to the police commissioner demanding a probe by the Central Bureau of Investigation into the church attacks.
Related reports
Bishops stage sit-in protest against Somasekhara panel report
Editor's Blog: Justice Somasekhara report biased, mischievous and funny!
Follow The Christian Messenger on Twitter | Facebook