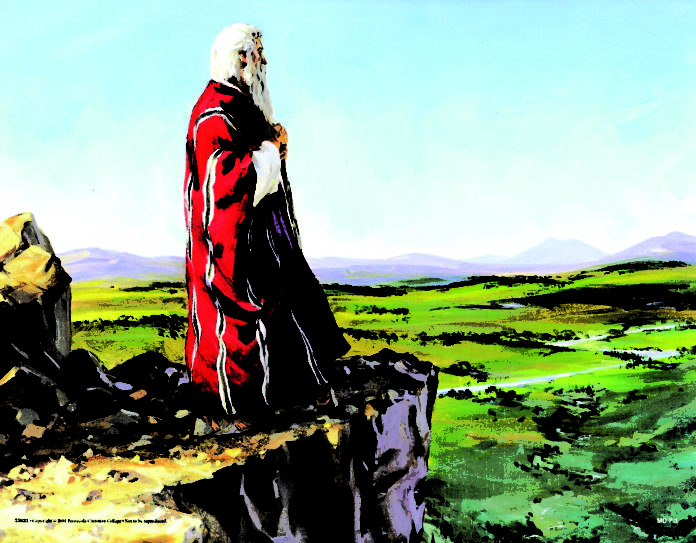 By Robin Sam
THEN MOSES went up from the plains of Moab to Mount Nebo, to the top of Pisgah, which is across from Jericho (Deuteronomy 34:1).
WHEN talking about Jesus Christ's death, it is not unusual for us to say that 'He came down to die for us and our sins.' Jesus Christ, the very 'image of the invisible God, the firstborn over all creation' condescended from His abode, the Heaven, to die in place of us.
Moses, a type and picture of Christ in the Old Testament, it can be said – on the other hand – went up to die! Yes, he went up to Mount Nebo, to the summit of Pisgah. And, there he died! What a way to go! Think about it. At the age of 120, Moses climbed up the craggy mountain of Nebo knowing full well that he was ascending only to die. What does that tell us about Moses? We'll find out soon.
How are WE doing? Are we living to die or are we dying to live? Let me put it this way, are we living in the hope that we are going to be around forever or do we realize the fact that every sunrise and sunset brings us closer to the day of death? James 4:14 says: '…you do not know what will happen tomorrow. For what is your life? It is even a vapor that appears for a little time and then vanishes away.'
Psalm 103: 15-16 say: "As for man, his days are like grass; as a flower of the field, so he flourishes. For the wind passes over it, and it is gone, and its place remembers it no more."
However, if you are in Christ the realities of life need not make you grim. Paul says in 2 Corinthians 4:16-17: "Therefore we do not lose heart. Even though our outward man is perishing, yet the inward man is being renewed day by day. For our light affliction, which is but for a moment, is working for us a far more exceeding and eternal weight of glory…"
Pisgah in Hebrew means 'peak' or 'summit'. As believers, we are adept at reading up about and craving for mountaintop experiences. We desire them as much as we loathe the valley experiences. Moses had a handful of mountaintop experiences where He experienced the glory of God, but the mountaintop experience at Pisgah was different. There, he did not see the glory of God. Instead, what he saw there was the Lord's goodness and faithfulness.
This month, it's my desire that you will experience a mountaintop experience that is quite unique; unlike the ones you may have experienced earlier. There are two extraordinary experiences and a dreadful reminder that God offered Moses from Pisgah. He can offer us too each one of them.
1. God will set you upon

YOUR

high places
There's a verse about Moses' death that I would like you to look at. Deuteronomy 34:5 says, "So Moses the servant of the Lord died there in the land of Moab, according to the word of the Lord." Listen to this: Moses died, according to the word of the Lord. Give God a shout of praise if you think that's a blessed state.
This blessedness did not come into Moses' life overnight. It was the result of his decision, a life-changing decision. The decision he made to go behind the One who called him by name at the burning bush.
Child of God, has God called you by name? Has you shown you what you must do with your life? And, have you cast your lot with Him? If you have, then you need not fret about the unseen and the unknown. He will reveal them by and by – like He did for Moses.
Moses took care to see his life was ordered according to the word of the Lord. When God gave Israel the commandments, Moses took care to write all the words of the Lord (Exodus 24:4). When Israelites were confronted with a specific problem for which a clear statute from the Lord had not been laid out yet, Moses commanded them according to the word of the Lord (Numbers 36:5). How did he know what the Lord's command concerning the daughters of Zelophehad was? He sought to know the Lord's will in the matter. And, when the Lord instructed him to initiate a census of the Levites, Numbers 3:16 says, "…Moses numbered them according to the word of the Lord, as he was commanded." Again, in collecting the redemption money from the Israelites and paying it to Aaron and his sons, Numbers 3:51 says, Moses did "according to the word of the Lord…"
The truth that we need to infer from all these is this: The one who lives and does according to the word of the Lord will also have his farewell from the world according to the word of the Lord. It will be in His time and for His pleasure. Yes, precious in the sight of the Lord is the death of His saints (Psalm 115:16).
If you are in Christ, if you live and move and have your being in Him (Acts 17:28) the final act of your life will also be determined by God – according to the word of the Lord. Hallelujah!
Death cannot snatch you one minute earlier than the time God has intended for it. Ailments may push you to the sickbed but it cannot rob even one day of your life that He has made for you. Perhaps, you may not inherit all the blessings that God has promised on this side of eternity, but you will not go down until He makes you climb up Pisgah and makes you see all that He has promised to you and your offspring.
In Psalm 18:33 David says, "He makes my feet like the feet of deer, and sets me on my high places." Dear child of God, God has earmarked high places for you and He will set you on them. When God met Moses at Mt Horeb, it was to make known the calling upon his life (Exodus 3:1). When God took Moses up on Mt Sinai, it was to give the Law and show him His glory (Exodus 34:4). When He took Moses up on Mount Hor, it was to anoint Eleazar as the priest in place of Aaron (Numbers 20:27). But none of these was Moses' high place. His high place was coming – it was Pisgah on Mount Nebo from where he would see the Promised Land.
2. God will make

YOU

see the best things first
In Deuteronomy 32, God directed Moses to go up on Mount Nebo and die. To many of us, that looks like an unusual command of the Lord. Go up and die? Moses did not ask God, 'Did I hear it right, Lord? You mean you want me to go up a mountain and give up my soul?' God made it clear that Moses' time was coming to an end and that he will not enter the Promised Land because he disobeyed God in the Wilderness of Zin. In the next chapter, despite getting the ominous message about his death and denial of entry into Canaan, we see Moses blessing the children of Israel. And after that, in Deuteronomy 34, Moses climbed up Mt Nebo.
We do not know for sure if Moses sulked about the refusal of the right to entry into the land of Canaan. What we know for sure is this: God, in His mercy, decided to show Moses the Promised Land. It would take a Joshua to lead a younger generation of Israelites into Canaan, but Moses need not despair. What Joshua and others will get to possess later, Moses would see now! Hallelujah!
The God you serve is a just God. I pray that He will not deny you any blessings on this side of eternity, but if He were to do that, be sure He has a good reason for it. The God who struck down Israelites for disobedience and unbelief found a measure of it in their leader, Moses as well. When asked to speak to the rock, Moses struck the rod twice. In that act of transgression, God detected unbelief and impatience in Moses. And being a just God, He wanted Moses to pay for it.
However, the God you and I serve is also a gracious God. It behove of God to show the Promised Land to Moses first before making Israelites possess it.
"And the Lord said, 'Shall I hide from Abraham what I am doing?'" (Genesis 18:17). The God who condescended to reveal the destruction that was to come upon Sodom and Gomorrah to Abraham, also decided to make Moses be the first man to SEE the Land of Promise. "These all died in faith, not having received the promises, but having seen them afar off were assured of them, embraced them and confessed that they were strangers and pilgrims on the earth" (Hebrews 11:13).
Moses did not receive the promise, but he saw it afar off, embraced it and died in peace. He died in the absolute assurance that though he had displeased God, it pleased God to show him the best thing FIRST. Hallelujah!
3. Beware of your

RESPONSE

to the Word of God
Pisgah looked like the summit of Moses' failure. Pisgah reminded Moses of the culmination of the punishment that awaited him for his transgression. And, this is a good time to ask this question: What exactly was Moses' fault? That he struck the rock? Was that such a big fault that merited such an extreme and strong reaction from God?
On two occasions, Moses struck the rock to get water. The first instance is mentioned in Exodus 17. They had set out from the Wilderness of Sin and camped at a place called Rephidim. There was no water and the people began to murmur against Moses. God's instruction to a beleaguered Moses is mentioned in verses 5 and 6: "And the Lord said to Moses, "Go on before the people, and take with you some of the elders of Israel. Also take in your hand your rod with which you struck the river, and go. Behold, I will stand before you there on the rock in Horeb; and you shall strike the rock, and water will come out of it, that the people may drink."
The second instance happened at the Wilderness of Zin and is mentioned in Numbers 20. The people stayed at Kadesh and Miriam died there. And they found out there was no water around there. The Wilderness of Sin is different from the Wilderness of Zin. Rephidim is different from Kadesh (also known as Kadesh Barnea). While the event in Exodus 17 occurred towards the early part of the Exodus after they set out from Egypt, the event in Numbers 20 happened towards the end of the Israelites' 40-year wanderings.
When the Israelites found out that there was no water at Kadesh, they murmured again. God's command to Moses in Numbers 20:7 was very clear again: 'Then the Lord spoke to Moses, saying, "Take the rod; you and your brother Aaron gather the congregation together. Speak to the rock before their eyes, and it will yield its water; thus you shall bring water for them out of the rock…"
The rock that was struck at Horeb was a picture of the crucifixion of Jesus Christ, the Lamb of God slain from the foundation of the world. Jesus, the Rock of Ages had already been struck once to bring forth the waters of grace and salvation to the whole world. It need not be struck again. The second time around, Moses was only required to speak to the rock. Since the work of Christ is finished on the cross, now only prayer is necessary. Moses' fault was that he was overcome by unbelief and became impatient. Moses' sin was by striking the rock when he was asked to speak to it. By striking it, he was trying to thwart God's scheme of salvation.
And, for those who think God gave Moses short shrift I urge you to read on. The God you and I serve is not only a just God, He is also a gracious God. He visits the iniquity of the fathers upon the children to the third and fourth generations of those who hate Him, but shows mercy to thousands, to those who love Him and keep His commandments (Exodus 20:5-6).
Israel is called the land of Immanuel (Isaiah 8:8). When Immanuel came down upon the earth, He chose to bring up Moses and Elijah on the Mount of Transfiguration (Matthew 17). What Moses' eyes saw at Pisgah on Mount Nebo, his feet touched on the Mount of Transfiguration. What was denied to Moses by the Law was made possible by Grace through Jesus Christ. Hallelujah! Glory to God!
John 1:17 says, "For the law was given through Moses, but grace and truth came through Jesus Christ."
Praise God for Jesus Christ! The law of Moses was like a mirror. Like a mirror that can show the dirt on the face but can do nothing more, the Law showed the people what sin looked like without offering a permanent way out of it.
Galatians 2:16 says, '…a man is not justified by the works of the law but by faith in Jesus Christ.' Righteousness could never come through the law because if it could, then Christ would have died in vain (verse 21).
The third thing Pisgah tells us is to beware of our response to the Word of God. His commands are not burdensome (1 John 5:3). Pisgah tells us that we have a God who will set us on OUR high places. Pisgah tells us that we have a gracious God who will make US see the best things first. Pisgah also warns us that we have a jealous God who will not suffer unbelief and disobedience.
It's my prayer that God will minister to you through this message and make you walk on your high places and make you not only see but also possess the mountain like Caleb did (Joshua 14:12). That's one mountaintop experience we may not want to miss! Amen!
(The message was first published in the Sept 2016 issue of The Christian Messenger print edition)
---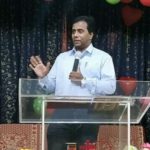 Robin Sam is a preacher, Bible teacher and missions worker. He works in Messenger Missions, a Gospel proclaiming ministry and edits The Christian Messenger magazines in English and Tamil.