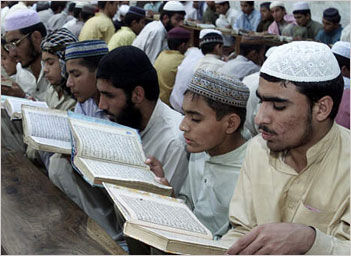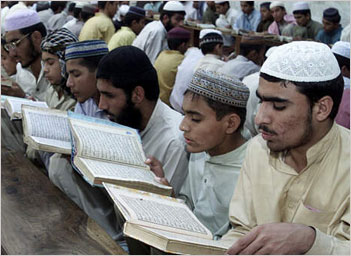 POLICE in the Kashmir Valley detained and beat converts from Islam and were expected to arrest Christian workers after Muslim leaders alleged that Muslim youth were being 'lured' to Christianity.
According to Compass, police in the Muslim-majority Kashmir Valley picked up seven converts who were recently baptized in All Saints Church in Srinagar.
A local Christian who spoke to the converts after their release on Nov. 2 told Compass, that police beat the converts and asked if Christians had given them money for their conversion. Most of the converts were from Budgam district, about 18 miles from Srinagar, and pastors there fearful of being arrested were in hiding, he added.
Peter Akbar's Testimony: Jesus' word is true, still alive and working!
Editor's Blog: Every tongue, every tribe, every people!
Senior Superintendent of Police of Srinagar Ashiq Bukhari was not available for comment.
Police got the names of the converts and pastors from a video recording of the baptism provided by Kashmir's grand mufti (the highest official of religious law), Bashir-ud-din Ahmad. The video was later posted on YouTube.
Rev. Chander Mani Khanna, pastor of All Saints Church, told Compass that he had been summoned by the mufti, who is also the head of the sharia (Islamic law) court. He said he would meet Ahmad on Nov. 17.
The court had issued the summons for Saturday (Nov. 12), but Pastor Khanna had a prior engagement.
India, home to the world's third-largest Muslim population, has a few sharia courts pertaining only to civil matters.
Ahmad alleged that Pastor Khanna, whose church is affiliated with the Church of North India (CNI) denomination, was converting young Muslim men and women by offering money, and that therefore he must be arrested. The mufti told media that the video was definitive evidence that Muslims were being 'lured' to Christianity, although it only shows the baptism ceremony.
Pastor Khanna said the young men converted of their own will and without his persuasion.
The Indian constitution provides for religious freedom, including the right to propagate and the right to change one's religion.
The pastor told Compass that the former Muslims, who were baptized at his church facility in August, were willing to sign affidavits saying there was no duress or allurement.
"That's what they told the police also," he said.
Pastor Khanna said his church is located in the heart of Srinagar, and that many Muslims come to attend worship service on Sundays.
"I have never gone to anyone's house to share about Jesus," he said. 'But in the church, it is my responsibility to preach God's Word. I can't refuse anyone. The house of God is open for all."
The pastor said the Muslim youths had been coming to the church on their own initiative and wanted to take part in Holy Communion. Pastor Khanna told them they had to follow a procedure if they really wanted to join in the sacrament, and they expressed desire to be baptized in due course.
"I can't convert anyone; it is the work of the Holy Spirit," he added. "And what do I teach in the church? God's love and how to be good citizens and good human beings … I have never shown disrespect for the Quran."
Pastor Khanna said there were many people, some with cameras, at the baptism ceremony.
"If it was meant to be a secret or illegal activity, we wouldn't have allowed cameras," he said.
Kashmir's civil society had shown support, he added, as the church had helped build about 600 homes for the poor, apart from providing other services in the region.
Kashmir police reportedly acted on the mufti's complaint because conversion is a sensitive issue.
"The decision to book the seven was taken at the highest level to avoid possible unrest in the Valley," the Times of India reported.
Kashmir has only a few hundred Christians. The whole state, which has a population of more than 10 million, has little more than 20,000 Christians – mostly from the Hindu-majority Jammu region.
Christians have generally had good relations with the Muslims, but there have been some sporadic incidents of violence. Compass
Know God | Who is Jesus Christ | How is Jesus Christ unique? | Who will be saved?
Track The Christian Messenger on Facebook | Twitter