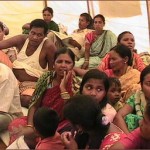 CHRISTIANS in Kandhamal district of Orissa, where large-scale violence was witnessed three years ago, celebrated Christmas peacefully.
Reports quoting Superintendent of Police Praveen Kumar said there was no untoward incident from any part of the state. However, rumormongers sent several Christians messages on their cell phones that violence had erupted again in the state.
Security was beefed up at places of worship and areas where Christians live in large numbers to prevent any communal riots. The Kui Samaj Seva Samiti (KSSS), a fringe group of fundamentalists, had announced a procession through Kandhamal on Christmas day. However, the group cancelled the procession after police warned of stern action against them.
In 2007, violence erupted during Christmas in Kandhamal. Christians were targeted and attacked after VHP leader Laxmananda Saraswati was killed in August 2008.
Though officials maintained that almost all Christians affected in the violence were rehabilitated, Christian agencies who visit Kandhamal insist that all is not well in the district.
A people's tribunal which visited the trouble-torn district in August, 2010 said several people were still scared to return to their homes in the district.