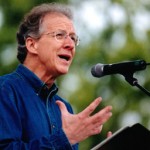 EVANGELICAL theologian and pastor John Piper is all set to return to the pulpit in January 2011.
Making this announcement, Kenny Stokes, interim pastor for preaching at Bethlehem Baptist Church in Minneapolis, US, said: "God-willing, his first weekend in the pulpit will be January 8 and 9."
Since May, Piper has been on a leave of absence. He has stepped back from all public commitments to deal with his 'character flaws' and focus on his marriage.
It is interesting to note that it is his first-ever leave of absence in his 30-year ministry career.
Back in May, when he announced to his church that he would be leaving for a period of time, he explained to the congregation that he was experiencing "several species of pride" within himself and that his soul needed a reality check from the Holy Spirit.
Although the character flaws did not rise to the level of disqualifying him for ministry, he said they were grieving him and were affecting his relationship with his wife, Noel, and others.
However, it was not immediately clear if Piper will keep up the same pace as he did in the past three decades of his ministry. In March, he had mentioned that he wanted to give five more years in the pulpit.