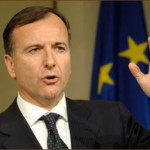 ITALIAN foreign minister Franco Frattini lambasted the European Union on Dec 22 for not doing enough to combat Christian persecutions in Iraq and other middle eastern countries.
Frattini said on Italian television that United States Secretary of State Hillary Clinton is also worried about the plight of Christians in the middle east. Many Iraqi Christians are leaving the region in large numbers to escape violent attacks on their life and property.
"Frankly, it is a little sad that Europe isn't reacting on this issue as it should," he said.
He also noted that while the EU desk diary for 2011 highlights religious holidays for Muslims, Jews, Hindus and Sikhs, it omits Christmas – an error that he described as 'indecent.'
"Publishing three million copies of a diary with European taxpayers' money with all the festivals of all the religions except for December 25 is indecent," he said.
"The European Commission has apologized, but it's too easy for some bureaucrat to admit a mistake. I want to know who it was and I want the diaries withdrawn," he added.
Italy is all set to present a resolution to the United Nations on religious freedom which aims to stop the persecution of Christians and it has the backing of the EU, while several non-EU countries have expressed 'great interest.'