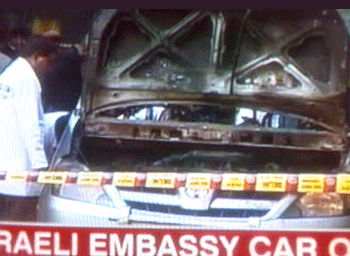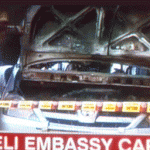 AN Israeli embassy car blew up on Monday in New Delhi, injuring two persons.
The cause of the explosion was not immediately known, according to police.
News reports said the car, parked down the street from the Israeli embassy in a residential neighbourhood of central Delhi, was badly burnt.
Police spokesperson Rajan Bhagat said two people were injured when the car exploded. There were no details about their condition.
"There was an explosion in an Israeli diplomat's car but we don't know how it happened. We are in touch with the local authorities," Israeli embassy spokesman David Goldfarb said.
Indian foreign ministry spokesman Syed Akbaruddin said two people were wounded, the driver and the wife of an Israeli diplomat.
"They are in the hospital and being tended to," he said.
Meanwhile, Israel's foreign ministry said an attempted car bombing in Georgia was thwarted. The bomb in Tbilisi was discovered before it went off.
Israel had put its foreign missions on especially high alert ahead of the Feb 12 anniversary of the assassination, in 2008, of the military mastermind of Lebanon's Hezbollah guerrillas, linked to the Shi'ite Islamist group Hezbollah, Imad Moughniyeh.
Iranian-backed Hezbollah had vowed to avenge Moughniyeh's death in a Damascus car-bombing, blaming it on Israel.
Israelis had also warned of possible reprisals ordered by Tehran for the assassination of several scientists involved in Iran's controversial nuclear program. No one has claimed responsibility for the Iran killings.
Dateline Israel: Read Don Davis' columns