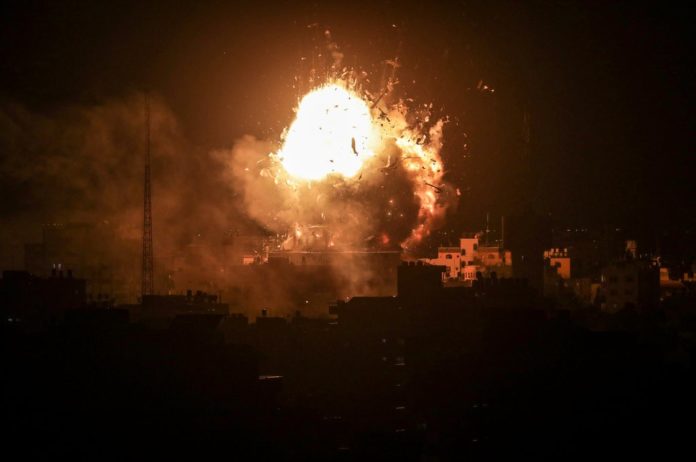 On Sunday, Prime Minister Benjamin Netanyahu assured Israelis weary of conflict with Palestinians in the Gaza Strip that he was "doing everything I can in order to avoid an unnecessary war."
Twenty-four hours later, Israel appeared to be on the brink of just that.
After a botched intelligence mission by undercover commandos left seven Palestinian fighters dead, the militant group Hamas and other armed factions mounted an intense and escalating rocket and mortar barrage across much of southern Israel.
With air-raid sirens wailing from the Mediterranean to the Dead Sea, and after a Palestinian anti-tank missile blew up an Israeli bus, seriously wounding a 19-year-old soldier, Israel retaliated with airstrikes and tank fire that grew steadily more destructive as the night wore on.
Israel hit scores of military posts and weapons caches across Gaza, but also leveled a Hamas television station, radio station and office building, and the group's military intelligence headquarters. It was the heaviest fighting between Israel and Gaza since their war in 2014.
The fighting threatened to scuttle months of multilateral talks aimed at calming the Israel-Gaza border, where protests since March have been met with a lethal Israeli response. Some 170 Palestinians have been killed and thousands more wounded.
The talks, mediated by Egypt, had already produced concrete steps to ease tensions in Gaza, including increased electrical power and the influx of millions of dollars in aid.
So why, some Israelis were asking Monday, with the Israeli government under pressure to ease tensions in Gaza and the talks showing progress, would the government risk it all for what officials described as a fairly routine surveillance mission?
The answer, analysts said, may be that it was so routine. No one expected the Israeli commando squad to be exposed.
"The real assumption is that the operation will not be revealed," said Giora Eiland, a retired major general and former national security adviser. "It's not 100 percent, but it can be estimated that 99 percent of these operations are not revealed, and 99 percent is good enough to make a decision assuming that the force will enter, execute and go out without being detected."
The cost of that tiny risk became evident on Monday. More than 400 rockets and mortar shells were fired into Israel, and the Israeli military said it had struck more than 70 military targets in Gaza belonging to Hamas, which governs the territory, and to Palestinian Islamic Jihad.
The authorities in Gaza said three Palestinians had been killed in the Israeli airstrikes and nine others were wounded. One Israeli was killed and at least 16 were wounded on Monday.
Each side repeatedly warned the other to back down, but refused to itself. After Israel threatened Monday night to begin leveling Gaza high-rises, and then did, Hamas warned that "millions" of Israelis would soon come under its rocket fire.
The Israeli military ordered all residents in the south, including in the cities of Ashdod and Beersheba, to remain in bomb shelters, some of which were opened as far as 25 miles from the Gaza perimeter. Air-raid sirens were heard as far away as Hebron, on the West Bank.
The United Nations envoy to the region, Nickolay Mladenov, who has sought a cease-fire between Israel and Gaza, wrote on Twitter that both sides needed to step "back from the brink" of war. "Rockets must stop, restraint must be shown by all!" he wrote.
But deep into the night, both sides were still ratcheting up the conflict.
Maj. Gen. Kamil Abu Rukun, Israel's coordinator of government activities in the Palestinian territories, warned Gaza residents that Hamas had "crossed a red line," and said that "Israel will dial up its response."
In Gaza City, employees of the Hamas television station Al Aqsa were warned to evacuate its offices, and the building was soon destroyed by multiple missile blasts that were captured on video by onlookers. A Hamas spokesman, Fawzi Barhoum, called the station's destruction an act of "barbaric aggression."
The Israeli military said the station was a legitimate target. "It contributes to Hamas' military actions, including by providing operational messaging to militants, directing and explicitly calling for terror activities against Israel, and providing guidance on how to carry out such terror activities," the military said in a statement.
Soon after, airstrikes demolished the Al Aqsa radio station's offices and Al Amal Hotel, a Hamas office building.
The fighting began hours after Palestinians and Israelis buried combatants who were killed on Sunday night, after an Israeli intelligence mission inside the Gaza Strip went awry when a team of covert operatives was challenged by Hamas fighters. A gunfight erupted, and the team called in airstrikes to cover their escape.
Six Hamas fighters, including a commander of forces in the Khan Younis area, and a member of the Popular Resistance Committees, another armed faction, were killed. An Israeli lieutenant colonel in the elite Maglan unit, a commando brigade, was also killed in the clash and was hailed as a national hero at his funeral.