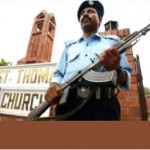 ABOUT 18 suspected Islamists attacked a Roman Catholic Church situated just opposite a police station on March 28, sources told ANS. Despite the location, the police did nothing.
The astonishing attack on St. Thomas Catholic Church, Wah Cantonment, in the district of Rawalpindi, took place some 25 yards across the street from the local police station.
The Rev. Nazir Nathaniel, assistant to the Rev. Fr. Yousaf Amanat, priest in-charge of the St. Thomas Parish, recounted that about 18 Islamists attacked the church in broad daylight in the middle of the afternoon.
He went on to say to say that 10 of these 'radical Muslim attackers' entered the church compound and hurled stones at and clubbed the statue of Mary and also compound lights. Others remained outside and pelted the church gate with stones, badly damaging it.
"Fortunately, no one was hurt or killed in the attack," said Rev. Nathaniel.
When ANS asked if any case had been booked against the Muslim culprits, the assistant priest said that Rev. Fr. Yousaf Amanat was of the view that there "should be some difference between them and us" and hence he did not take any legal action against the Muslim men "nor let anyone take to the streets to protest."
The assistant priest said that the church leadership had decided to pardon those that attacked their church and by so doing, "follow the teaching of Jesus Christ to forgive our enemies."
On the other hand, the Rev. Nathaniel said, "it is sad that Muslim men were attacking a totally harmless Christian community of Pakistan, that was playing a key role in the building and development of Pakistan.
He appealed to the authorities to 'eradicate such fundamentalist elements' and beef up security of churches, particularly on the heels of the assassinations of Minorities Minister, Shahbaz Bhatti, and Punjab Governor, Salman Taseer, both of whom dared to speak against the blasphemy laws and in favor of the religious minorities of Pakistan. ANS
Follow The Christian Messenger on Twitter | Facebook