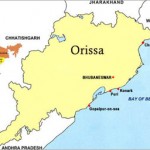 By Teresa
"ON April 1, 2011, early in the morning, Mahendra K Parabhoi, a missionary associated with the Indian Evangelical Team (IET) was starting his journey to Bhawanipatna division, to go to the village of Shemgura.
At that time, the Naxals came. There were 20 women and 50 young men. They kidnapped Mahendra and took him atop a mountain. They would not let him use the mobile phone. So he became very upset and worried because he could not tell anyone else what was happening to him. All he could do was pray. So he was praying so much.
They would not let him have any water or food. The whole day was a day of fasting.
All day long, they were asking him questions, interrogating him:
* Who are you? Where are you going? Where did you come from? Why are you going? What is your goal? What is your vision? What is a pastor?
Then they gave Mahendra a Naxalite pamphlet and told him, "Read this. Study this. And then help us." Mahendra read it for three hours.
After that, Mahendra told them two Bible stories. The first story he told them was the story of the demon-possessed man in the book of Mark. The second story he told them was the story of the bleeding woman.
Then he told them the IET vision, the teachers who are going to the villages to do literacy work, to teach the people how to read. And while they were doing so, they were also telling these Bible stories, he added.
Then the Naxalites said, "This is very good work. We are very happy with this work because you are teaching the people, 'Don't lie. Don't steal.' So you please come. Come again and come often and teach these things, tell these Bible stories."
Then in the evening, they let him go. Until then he was so upset, so worried, praying so much, because no one knew where he was or what had happened to him. He said the Naxals had kidnapped him because they said, "You are so tall, so big, so fit. So we supposed you must be some kind of an army man."
Pray for all missionaries working in areas infested by Naxals and Maoists.
Follow The Christian Messenger on Twitter | Facebook