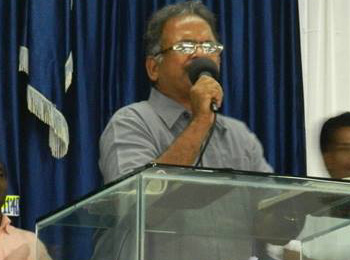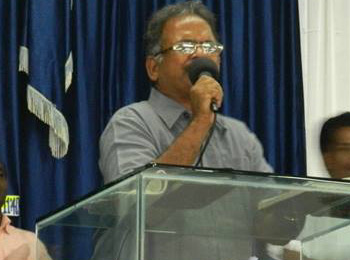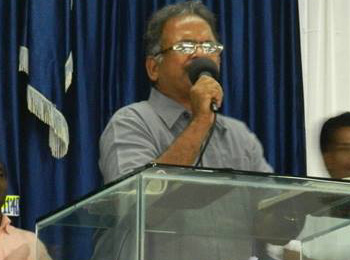 By Rajathi Venthan
THE 15-year-old boy had everything going his way. He was born in a pious, traditional and well-to-do family. He was the 4th-born of 7 children in the family. Just when he thought he had embarked on a smooth sail, he was struck with malaise. The reason? An ailment of the stomach made him weak and despondent. He thought it would go away, but the pain persisted and wouldn't go away. No pills or medication – regular or alternate – worked on him. While it gave him some temporary relief, he longed for permanent cure. When medication failed, he turned to his gods. Soon, it became a ritual for him to visit temples. There was a time when he would visit as many as five temples in a week. He went to mosques and offered prayers in vain. He went to a local catholic church and prayed in vain. He religiously observed rituals but soon discovered it was all in vain. Just then, one day with a heavy heart when he was walking aimlessly and contemplating suicide, he heard some singing going on a little down the road. He walked towards the singing and found a man and his wife teaching a Tamil Christian song to a group of children in a street corner. He noticed that the man played the tambourine well. Sometime later, the couple bid goodbye and went away promising the children they'll come again next week. They came a week later. They came again the next week, and the next week and the week after that. Every time, the couple came and sang songs, S Thamarai Selvan would observe them from a distance. Although he wanted to talk to them, he hesitated. Sensing this, the evangelist and his wife approached him and struck a conversation with him.
"I met Jesus through those God's servants' concern that day. Today, God has lifted me up and made me enquire the wellbeing of many people around me," says Pastor S Thamarai Selvan of Good Life AG Church in Thiruppathur, Sivagangai district of Tamil Nadu. The Christian Messenger met Thamarai Selvan, a soft-spoken man with 30 years of ministry experience recently in Chennai. Excerpts from the interview:
So, how did you accept Jesus as your Lord and Savior?
When they came up to me and enquired how I was doing, I told them about my chronic stomach pain and asked them if they'd pray for me. The evangelist said I could pray myself for healing. I told them while I knew how to pray to my gods, I wasn't quite sure how to pray to Jesus. Pray to Him as a child talks to his father, the evangelist told me and asked me to repeat a prayer after him. Then we prayed together: 'Jesus, if what these people tell me about you is true, if it is you who created me, if it is you who died for me and my sins on the cross, please forgive me my sins and accept me. Help me live a new life. If you do so, I will live always for you.' When he touched my head and prayed for me, I could sense an anointing. The stomach pain left me then and hasn't troubled me after that day. I began to taste the goodness of the Lord from then on.
Can you share your salvation experience with us?
The evangelist couple did not come to our village after that day. One day, I thought to myself 'Why cannot I give my soul to the God who gave me a new life?' Six months rolled by. One day, we were visiting my aunt and came to know that she was a believer and was part of a Pentecostal church. Half-joking, my father told my aunt that I loved Jesus, too. While it was time for us to leave for our home, my aunt called me aside and said: 'Come home this Sunday. I will take you to the church.' From that day, I began visiting my aunt every Sunday, and she started taking me to the church. However, my father did not know I was actually going to church every Sunday. Around that time, Pastor Stephen of AG church in Narimedu, Madurai, organized a huge convention. An evangelist named Lennon Darby was leading the crusade. It was in that meeting that I came into the salvation experience. Later, I secretly took baptism.
How did you come to the Lord's ministry?
After my baptism, I vowed not to eat food offered to idols. My family was very ritualistic. They observed fast every Saturday. On that day, even salt had to be bought afresh from the shop. At home, they'd cook food, offer it to the idols and worship them. Because I vowed not to eat anything offered to idols, I was beaten up. The Lord's grace helped me remain rooted in the faith. Soon, I got a fresh infilling of the Holy Spirit. Sometime later, I attended a family conference. Fifteen of us were part of the meeting. I had prayed to the Lord to show me direction in life before coming to the family conference. During lunch break of the meeting, I saw a man of God walking towards me. While the other youth with me greeted him saying 'Praise the Lord', I tried to ignore him. Just then, the Spirit of God prompted me to speak to the man. As soon as I shook hands with him, he asked me why I had not committed myself for the Lord's work. He asked me to do the work of God and spoke of many other things. When I returned home, God impressed in my heart that what the man said was His response to my prayer for direction in life. Later, God confirmed His calling on my life through a vision, a Gospel meeting and His Word.
Later, I sent an application to a Bible college for enrolling myself as a student. They promptly acknowledged my application by sending a letter home. All hell broke loose when my father saw the letter from the Bible college. Later, I went to join the Indian Air Force, but I was not selected. The IAF authorities asked me to come again six months later. My attempts to reappear for the IAF selection were met with a stern 'No' from my father. After that, the Bible college wrote again asking me to appear for an interview. My father thrust some money into my hands and sent me to the Bible college. However, when I returned from the interview, the situation at home was volatile. My father was like a bull in a china shop. He broke all the Bible verses photo frames at home. I remembered what they had told me at the Bible college. They said I should never look back after I have decided to follow Jesus. I took my suitcase, thrust some clothes into it and walked out. Just when I was about to leave the house, I heard my mother cry. Moved by her tears, I put my suitcase down.
The song 'I've decided to follow Jesus. No turning back, no turning back' was playing on in my mind then. I grabbed my suitcase and walked out of my house to my pastor. He agreed to pay the Bible college fee. In my second year at the college, my mother was saved. The third year, my brother was saved. Almost all in my family came forward to wish me at my graduation ceremony.
Can you tell us about the early days in your ministry?
The first few years, I helped my pastor in the ministry. On March 11, 1984, my pastor prayed and launched my ministry. A man, his wife and their two children were the first members of the church. Early in my ministry, I resolved neither to announce my personal needs to anyone other than God nor to borrow money from anyone. I began my ministry with 55 paise in my pocket. However, God met all the needs of the ministry. When I go to the believers' homes, I discourage them from giving me an offering. I ask them to bring their tithes and offerings to the church. From that day, God has been more than sufficient in my life.
How did the church grow?
After a period of growth in the initial years, there was a period of stagnation. Realizing that church growth depended on our prayers, we prayed along with the church members. We prayed in the morning for 40 days. People would come, but as soon as they began to be blessed they would stop coming or go to another church. That was the state of church in Thiruppathur. We prayed fervently and God changed the situation. Today, the church has about 400 believers. We have 7 branch churches. We also minister among the gypsies. We met them just as we would meet anybody. God opened doors for us in that community. Now, my daughter ministers among them.
What's your take on the mega churches in our cities? How many believers can a pastor sincerely minister to?
It becomes difficult when the number of believers go up. I guess a pastor can look after 300 to 400 people at the most. And if the pastor ploughs a lone furrow, it becomes even more difficult for him to manage them. When the numbers were few, house visits were regular; but after the church grew I go only to those houses that have needs. Other times, when the Lord lays upon my heart to go and visit a particular family, we visit them. I have also set aside time to meet with believers regularly.
Should the children of those who are into the Lord's work necessarily get into ministry? Are ministries inherited?
A man and his wife begin their ministry together. When children are born, they are dedicated to the Lord. What's wrong in the couple desiring their children to be involved in the ministry? We pray for them. They grow up in the ministry environment. They travel with us to wherever we go. They know what they are getting into. So, when that's the case what's wrong in them coming into the ministry?
Should the fact their parents are into ministry be their only qualification? Or is it that you do not want to hand over the ministry you sweated over to anyone else?
It's definitely not that. My church belongs to the organization. My children can continue in the ministry only if they are called for that. We didn't ask them to get into the Lord's ministry. Nor can they do it on the basis of their parents. After me, it's the organization that will take care of the church. Only the calling on their lives will determine if my children can manage the flock.
Tell us about your prayer life.
The foundation of our faith life is prayer. It's the same for the pastor and the believer alike. God expects us to take all our needs to Him. Prayer takes precedence over everything else. Do you want real deliverance? Pray. If you lean on your experience, you will face defeat. Any ministry that leans on its experience is a phony ministry. It is our prayer on our knees that bring us victory.
Your words of wisdom to the younger generation doing the Lord's work…
I would say my wife has been the backbone of my ministry. There were days when we went around ministering on an empty stomach. My wife grew up in a place where it was not very hot and humid. Thiruppathur is a place where the sun practically roasts everything. She put up with all that and ministered along with me. So, it doesn't matter if your parents or in-laws or finances are not in your favor. Make sure you and your wife have oneness. Secondly, do not make the mistake of working only on Sundays and taking off the rest of the week. Instead of cribbing there are no souls in the church, work hard at getting them into your church. Luxury is always dangerous. Seek God's help in all things. Never look up to any man to meet your needs either directly or indirectly. Your eyes should not be on the offering box. They should always be upon the Lord our God. Never seek to fulfill your needs. 'And all these things shall be added unto you.' Make sure you are growing spiritually every day. Pray and bind the strong one before you attempt to plunder his things (Matthew 12:29). Only then can you overcome the devil and do effective field work. Planning, strategizing and follow-up work should come from the Lord. God has a plan for every person and every ministry. If you can seek the plan for your life and ministry from God and act on it, then victory is yours.
For details contact: Pastor S Thamarai Selvan, Good Life AG Church, AG Nagar, Pudukottai Road, Thiruppathur 630 211, Sivaganga district, Tamil Nadu. Phone: 91-457-7266076.  Facebook page.