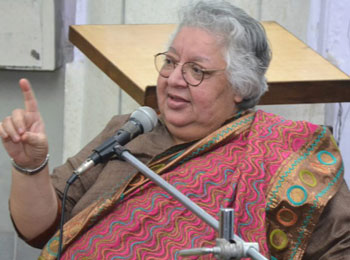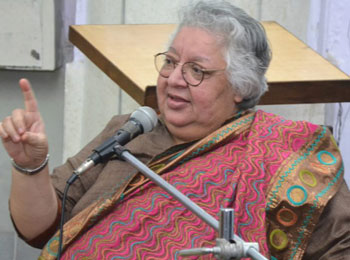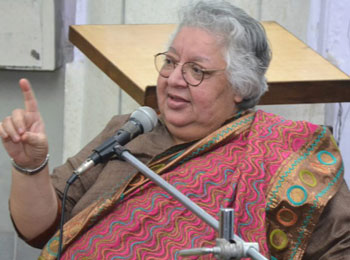 By Pallavi Bhattacharya
DEPRIVED of her childhood, well-known Bollywood and Kollywood actress Daisy Irani Shukla was once full of hurt and bitterness towards her mother for making her toil in films as a child artiste. She, along with her sister Honey Irani, were household names in the fifties and sixties thanks to their roles in Hindi and Tamil films. Some of the Hindi films such as Bandish, Jagte Raho, Bhai Bhai, Naya Daur, Hum Panchi Ek Dal Ke, Musafir, Sahara, Quedi No. 9211, Duniya Na Mane, Do Ustad, Dhool Ka Phool, Soorat Aur Seerat and Chandi Ki Diwar  in which Daisy Irani acted either alone or along with her sister went on to be blockbusters of those times. When she was only 19, she got married to movie writer K K Shukla. She has three children, Kabir, Varsha and Ritu. She is maternal aunt to Farhan Akhtar and Zoya Akhtar (son and daughter of her sister Honey Irani) and Sajid and Farah Khan (son and daughter of another sister Menaka).
After accepting Jesus Christ as her Lord and Savior, her malice towards her mother changed to love as she realized she was able to forgive her easily. Although she was a chain smoker earlier, she also quit smoking by God's grace. In this interview with The Christian Messenger, she talks about her experience of salvation and her life as a redeemed and transformed Christian. Excerpts from the interview:
You have followed Zoroastrianism, Islam, Hinduism and Christianity. After following these religions what has it been like to follow Christianity?
I had never followed Zoroastrianism, Islam and Hinduism. Circumstances brought me into these circles. I was born a Parsi. Then, my mother got converted to Islam. So, I got converted along with her. I was just six years old then. When I grew up, I met my boyfriend who later became my husband. He told me that I would have to become a Hindu after marriage. By that time, I was already ready to leave Islam anyway. Christianity was, however, my choice.
It is said that a friend introduced you to Jesus Christ. Please tell me more about your encounter with Jesus.
I was searching for someone to help me to forsake my smoking habit. I used to smoke 60 cigarettes in a day for six to seven years. I wanted to get rid of the habit as I was pregnant. I was very desperate to do so as I had lost a baby because of that.
At that time God introduced Himself to me. A friend of mine who used to smoke and had given up smoking told me how she had kicked the habit. She told me that she had become a Christian. She was a Hindu earlier. At that time, I didn't want to become a Christian as I had been on and off in many religions.
I used to do Novena prayers at Mahim during that time. A Novena prayer goes on for nine Wednesdays. You ask for something and it is believed that it is granted to you. I had completed 18 Novenas. I told my friend that I was acquainted with Mother Mary and Christianity. Then she started talking to me about Jesus Christ.
I had an Islamic background. Muslims are very sternly taught that Christians are bad in a very subtle way. Nobody came to me directly and told me so. We are, however, told things like Christians drink and wear revealing clothes. What they say is true as several Christians and Catholics are like that. Then, when people watch films like Godfather they think that Christians are dons. People have a different concept of Christians when they do not know the true God.
So, I never took Christianity seriously. I was under the impression that following Christianity was just stepping in and out of a church in the same way that Muslims visit a mosque and Hindus drop into a temple.
What made you change your outlook?
I had an encounter with God. That really transformed my outlook towards the faith. I then met Pastor Alan Wilson from New Life Fellowship Church in 1975. He was a founder member of the church. He gave me the Gospel and asked me if I believed that Jesus had died for me. I had never heard something like that before. God had driven me there, and hence I replied in the affirmative.
He asked me if there was anything particular that he needed to pray about. I told him that my basic problem was my smoking habit. He explained that God was there to help me. I went back home and started smoking again. I hastily concluded that the Christians I had just met were all liars.
My father had gifted me an enormous and heavy cupboard. I wanted to shift it. I had just heard in the church that faith can move mountains. I said to myself I will try and move a mountain later, but I needed help in moving the cupboard. I prayed that I could shift the cupboard in Jesus' name. It simply didn't move. I once again thought that false notions were spread by the church and I went to sleep.
Please go on…
The pastor had given me an appointment at 10am to visit his house. I woke up ringing their bell. I had no memories whatsoever as to when I had woken up and had travelled to their home.
Moreover, I had gone to bed thinking that I simply wouldn't visit their home. My eyes opened from slumber when they opened the door. Initially, I thought I was dreaming. Then I realized that it was true. I was so scared that I didn't even share with the pastor's wife about this. I didn't even know their address properly, so I was baffled about how I managed to reach there.
When I spoke to them I told them about the cupboard, the pastor's wife reinforced that if I believed, it would surely happen. All, I needed to do is trust God. They gave me a Bible with some verses that they had underlined. I went downstairs and didn't even know where I had parked my car. I found my vehicle. From that day I started taking Jesus seriously.
I am not an educated person. I thought Jesus was spelled with a G. I used to write Jesus with a 'G' instead of "J". I then thought that it would take me time to read the Bible. As I was feeling afraid with the miracle of me travelling to the doorstep of the pastor's house, I said that if Jesus would help me to quit smoking I would give my life to Him.
From that day, my smoking habit went out of my life. Initially, I felt that this couldn't be true. I kept chewing gum and loaded pepper mints in my handbag. They got spoiled after remaining in my purse for three days. I didn't actually need them as I didn't feel like smoking. That was a big miracle for me. I felt like God was there for me when I needed something.
You were a child artiste and had an abusive childhood. Would you like to share more about it?
Nowadays, when I reflect on my childhood days I praise God for being there with me during my hardships. I was a very sharp and smart child although I behaved more mature than my age.
I do not ruminate on the abuse part anymore. I know all that had happened but don't get flashbacks like I once used to get. After accepting the Lord, Jesus took away all that bitterness and ugliness. It took some time to forgive my mother. The most beautiful part of it was that she was the first believer in my family after me. My life has been very nice and God has been very gracious to me.
What was your late writer husband K.K.Shukla's walk with the Lord like?
He was a very nice and kind-hearted man but he was not a Christian initially. He came to the Lord 15 years after I accepted Jesus. I had been praying for him for 15 years. When he came to the Lord, things changed in him. That was very nice to witness.
I, however, wish that my pastors and elders in the church would have given more time to him. They unfortunately didn't do so. Even I was a leader in the church. One day, I caught hold of everybody. I explained to them that not one of them had come to visit my husband to spend some time with him and talk to him. He had suffered a stroke and wasn't well. He was an intelligent man who would have liked someone to come and converse with him. Pastor Shekhar Kallianpur was, however, there to talk to him.
Are your children Varsha, Kabir and Ritu born-again Christians, too?
They all have been water baptized. Currently, they are not walking with the Lord. However, they don't have vices either. They have very independent spirits. I believe God will bring them to Him.
Varsha is married. I was pregnant with her when I got baptized. She is a teacher. Kabir is a promo executor in Zee Cinema. Ritu is into production.
Have you shared the Gospel with your nephews and nieces Farah Khan, Sajid Khan, Farhan Akhtar and Zoya Akhtar?
I have told Farah and Sajid about Jesus Christ. Farah would come to church with me. I haven't really talked to Farhan and Sajid as yet, as I do not speak about Christ to someone who is uninterested. My sister Honey Irani who is Farhan and Zoya's mother is happy that I have found solace in Christ.
Have you talked to your colleagues and friends about the Gospel?
I do so only when they ask me. They seem to think that they do not want God right now. I feel that I shouldn't speak to people who do not wish to hear me out. I follow the saying that we shouldn't throw our pearls before swine very seriously. I only speak to someone that God asks me to speak to and share the Gospel.
Christianity isn't properly depicted in Bollywood. What are your comments on that?
That is because those who make films lack knowledge on Christianity. I am often asked that if Jesus died on Good Friday, what is good about it? They don't even have the time to understand or listen to you. Sometimes, I think even the Christian filmmakers don't know their faith. (C) The Christian Messenger