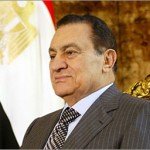 Hosni Mubarak has stepped down president of Egypt.
Vice-President Omar Suleiman made the announcement in a brief statement on state TV.
The announcement came even as thousands massed in Cairo and other Egyptian cities for an 18th day of protest to demand Mubarak's resignation.
Protesters responded by cheering, waving flags, embracing and sounding car horns. "The people have brought down the regime," they chanted.
Suleiman said Mubarak had handed power to the high command of the armed forces. Unconfirmed reports said Mubarak has gone into his resort in another Egyptian city.
"In the name of God the merciful, the compassionate, citizens, during these very difficult circumstances Egypt is going through, President Hosni Mubarak has decided to step down from the office of president of the republic and has charged the high council of the armed forces to administer the affairs of the country," he said.
"May God help everybody."
Mubarak resigned after relinquishing power after three decades of iron-clad rule in the powerhouse nation of the Arab world.
Suleiman announced the resignation on state television and said he was transferring authority to the Supreme Council of the Armed Forces to "run the affairs of the country."
Tens of thousands of emotional anti-government protesters erupted in deafening cheers on the streets of Cairo after the announcement.
"Egypt is free!" they chanted.
Full Coverage: Egypt in the news | Mubarak's last speech on state TV
US President Barack Obama reacted cautiously to the development. He said he was notified of Mubarak's decision Friday morning and was closely watching the extraordinary developments unfold in Egypt, a key US ally. He will make a statement Friday afternoon, the White House said.
According to a source with close connections to Persian Gulf government leaders, Mubarak had gone to the Red Sea resort town of Sharm el-Sheikh.
Follow The Christian Messenger on Twitter | Facebook