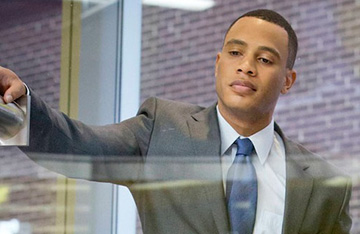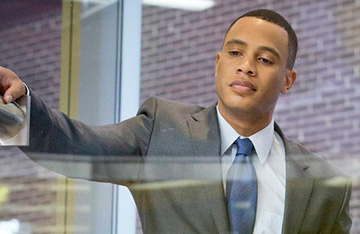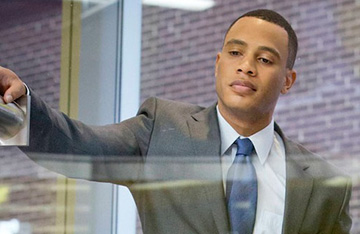 An up-and-coming TV star said in a recent interview that his Christian faith makes some of his Hollywood peers uncomfortable. Trai Byers, who is known for his roles on FOX's "Empire," and the Academy Award-nominated "Selma," says that he has been given a platform to share his faith and he plans to use it.
"I know a part of my journey now, the reason I'm an actor now, the platform that I have now," Byers told The Christian Post. "I'm supposed to share the Lord with people. All of us are disciples on some level. You don't have to be behind the podium to tell a story, connect with people and share the Gospel."
The actor said he grew up attending Sunday school, but developed a real relationship with God after an incident where a gun was pointed to his head at the age of 15.
Byers said, "That night I wasn't able to sleep, I felt something very heavy on me. Like, 'You're not supposed to be here, Trai. I saved you Trai.' I reconciled with my life some of the things I was interested in as a teenager that I shouldn't have been interested in. God turned me around just like that — with the snap of a finger, and I've been a hardcore Christian advocate for God ever since."
Byers says he knows life is about glorifying God.
"It's working out for the purpose of His glory. If I weren't doing my job and saying 'thank the Lord, God is good' everywhere I go, I think I would be doing a disservice to Him. Who knows how long this life would last. Wherever I am, whether I'm an actor, whether I'm a teacher or whatever… I'm going to shout to the heavens until it's over because it's not about us, it's about Him."

HOLLYWOOD actor Christian Bale may have shot himself in the foot—along with dampening public enthusiasm for the upcoming film in which he stars, Exodus: Gods and Kings­—by saying that he considers Moses "barbaric" and "likely schizophrenic."
Brad Pitt on why he's got issues with religion
HE may be starring as a 'lost soul in the modern world' searching for the meaning of life in Terrence Malick's new film 'Tree of Life', but Hollywood actor Brad Pitt has not found solace in traditional religion himself.
Redeemed porn actress asks men not to destroy their lives

JENNIFER Case, a former porn actress who accepted Jesus Christ as her Savior, has appealed to men not to destroy the lives of people by their addiction to porn.
Mel Gibson to direct film on Christian war hero

The Amazing Spider-Man's Andrew Garfield looks set to star in a film based on the true story of a conscientious objector who was ostracised for his refusal to carry a weapon, but won a US congressional medal of honour for his heroic actions on the battlefield.