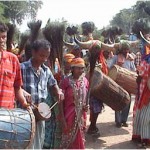 AS many as 20 tribal Christians were attacked brutally by a Hindutva group over an altercation at a cemetery.
According to news reports, on March 5, a Hindutva group accosted some Koya tribal Christians and picked up an argument with them over burying a dead person in a cemetery in Gudur village of Chintoor mandal of Khammam district in Andhra Pradesh.
They were prevented to bury one of their dead members at the cemetery. The argument resulted in the group attacking Koya tribal Christians at the burial site itself.
In the attack, three Christians were seriously injured. Gudur village is close to Orissa. Reports said the tribal Christians were being regularly attacked and harassed by the Hindutva group. The group had allegedly warned them against reporting the incident to police.
However, local Koya Christians lodged a First Information Report on March 6 at the Motugudem police station. The Christian council's AP unit is spearheading help and enquiry into the incident.
Follow The Christian Messenger on Twitter | Facebook