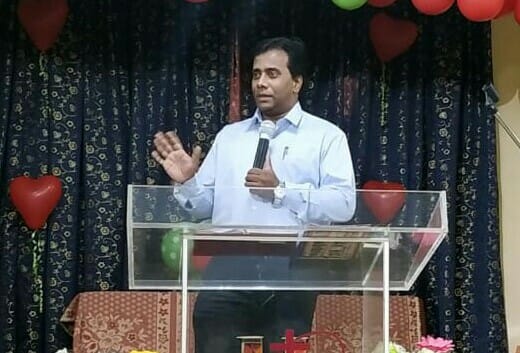 By Robin Sam
GREETINGS to you in the mighty Name of our Lord Jesus Christ!
Yet another month, yet another set of challenges, yet another load of burdens to carry – all these while the old challenges have not been resolved and the old ghosts have not been exorcised. Is that your life? Is that how you view the birth of every new day, week and month?
Cheer up! I have some good news for you.
The Man on the cross who said in Matthew 28:20: "Lo, I am with you always, even to the end of the age" 2,000 years ago is still faithful. He will be with you just as He said He will.
British evangelist, preacher and Bible teacher George Campbell Morgan once shared an experience from his life with respect to Matthew 28:20. Early in his Christian life, Morgan used to visit several ladies once a week to read the Bible to them. When he came to the end of Matthew's Gospel, he read: "Lo, I am with you always, even to the end of the age." He exclaimed: "Isn't that a wonderful promise?" One of the ladies quickly replied: "Young man, that's not a promise. That's a fact!"
Whether we like to believe it or not, this fact is unalterable. Jesus Christ is with us in all our ups and downs. He is with us in the boat in the storm. He was in your home when that property dispute threatened to tear down your house. He was with you when you lay in the hospital bed thinking it's all over. He was with you when you lost your job. He was with you when your spouse passed away. He was with you when your children went through troubles in their own life. He was with them too.
While He does not always announces His presence, He lets us know that He will anoint us with His oil of gladness amidst gloominess. Oh, what a lovely assurance!
Apostle Paul knew Jesus Christ was with him when he set out to establish a church in the city of Corinth. He chose to believe the fact that Christ will not let go of him or let him down when difficulties arose in planting church. Eventually, he won people to Christ and baptized them (Acts 18:8). He stayed with them and taught them the Word (Acts 18:11). And, when the works of selfish Jews threatened to destroy him and his work, the Lord reassured him in a special way: ""Do not be afraid, but speak, and do not keep silent; for I am with you…" (Acts 18:9-10).
Brethren, I do not know what you are going through but I know one thing. The Lord is with you in the storm and in the calm. Just believe and let Him work out things for you. Don't do anything in a haste. Do not in darkness doubt what God has told you in the light. It does not matter who leaves you or who works against you. The Creator-Saviour is with you, He will fight your battles.
He who has promised you is faithful, says the Bible.
"Let us hold fast the confession of our hope without wavering, for He who promised is faithful. And let us consider one another in order to stir up love and good works, not forsaking the assembling of ourselves together, as is the manner of some, but exhorting one another, and so much the more as you see the Day approaching" (Hebrews 10: 23-25). Will you say an Amen to that?
---
Robin Sam is a preacher, Bible teacher and missions worker. He works in Messenger Missions, a Gospel proclaiming ministry and edits The Christian Messenger magazines in English and Tamil.