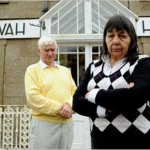 THE gay community that got a British court to fine Peter and Hazelmary Bull, Christian owners of a Cornish guesthouse, of £3,600 last week seems to be out to harass them even further.
They are now attacking the couple where it hurts them the most. The couple has complained of bogus reviews about their hotel on travel websites.
Peter and Hazelmary Bull were fined £3,600 last week because of their policy of restricting double rooms to married couples. They were sued by a homosexual couple.
Utterly false reviews are being placed on Tripadvisor.co.uk, a prominent travel website, in what appears to be an attempt to harm their business.
The reviews were found to be fake when Mrs. Bull discovered that the people behind them were claiming to have stayed at the hotel in the winter – when the hotel was closed.
One of the reviews said: "The bedsheets were soiled and there was a strong smell of urine coming from the mattress. I even spotted a dead coakroach [sic] behind the dresser."
Interestingly, the review was posted on the same day as the court ruling against the couple,
Another review, posted on the first day of the couple's trial in December, said: "The service and 'welcome' was as friendly as havin [sic] a gun pointed to your face with a sinister smile on the face of the person about to fire it!"
Reacting to the malicious attacks on their business, Mrs. Bull said: "I was moved to tears when I saw the reviews. I pride myself on cleanliness and we work so hard to provide a good experience of people.
"It's a cruel and vicious thing to do, and it couldn't have come at a worse time because people are now booking summer holidays. This could wreck our business."
Although TripAdvisor has a policy of inviting business managers to respond to reviews, it has failed to display the response, according to Mrs. Bull.
When Daily Mail, a respected newspaper in the UK contacted by TripAdvisor, the website promised to remove the suspect reviews.
Since last week's ruling, the couple has been subjected to abusive phone calls. Homosexual couples have also been besieging the guesthouse with demands for double rooms in what may be an attempt to force the Christian couple out of business.
Related stories: The 'great falling away' in the West | BBC casts gay slur on King David of the Bible |