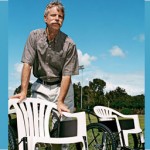 FREE Wheelchair Mission founder Don Schoendorfer will be in Kerala next month as part of the organization's celebration of distributing five million free wheelchairs around the world.
As many as 5,000 free wheelchairs will be distributed at a function to mark the celebrations at the Thirunakkara grounds in Kottayam, Kerala on March 14.
Sathyam Service Trust, a registered charity based in Tiruvalla, Kerala, is a missions partner of FWM in India. Sathyam has till date distributed close to 60,000 wheelchairs all over India.
Founder of the Sathyam Service Trust C V Vadavana, Kerala Pradesh Congress Committee president Ramesh Chennithala and Member of Parliament Jose K Mani will be among the who will speak on the occasion.
Schoendorfer is known for his initiatives in equipping the disabled with a functional and low-cost prototype of the wheelchair. The prototype has since been put to use in changing the lives of hundreds of thousands of disabled people around the world. The wheelchairs provide not only the gift of mobility but also of dignity, independence and hope.
FWM is an international nonprofit organization dedicated to providing wheelchairs for the impoverished disabled in developing nations. It works with missions partners in China, Chile, Peru, Mexico, Iraq, Angola, Congo, Ghana and Afghanistan besides India.
Sathyam may be contacted at 1-800-425-1211 for further details.
Maramon Convention 2011: Complete Coverage
Follow The Christian Messenger on Twitter | Facebook