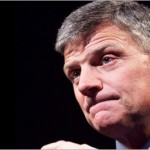 US evangelist Franklin Graham, son of Billy Graham, denounced what he described as 'outrageous' attempts by the political left in America to blame Alaska governor Sarah Palin for the Tucson rampage that left six people dead and 14 wounded.
In a statement posted on the BGEA (Billy Graham Evangelistic Association) website, he said: "This is a time for mourning and prayer for the victims and their families…I have been shocked at the reports from those suggesting that former Governor Sarah Palin has some level of responsibility for the horrific shooting in Arizona."
Stating that he got to Palin when she served as governor of Alaska, Graham said: "She was extremely helpful to Samaritan's Purse in providing relief to remote villages throughout the state."
Samaritan's Purse is the ministry organization Graham founded to conduct relief operations across the world.
"Whether you agree with her politics or not, it is outrageous to suggest that her political opinions encourage violence toward anyone," he said.
"Half accusations have already been made before much information is known and an investigation has occurred… I believer this is counterproductive and could in itself incite hatred," he said.
"This is not a time for political opportunism. Just because we disagree with someone from another political party does not mean we wish them harm," he added.