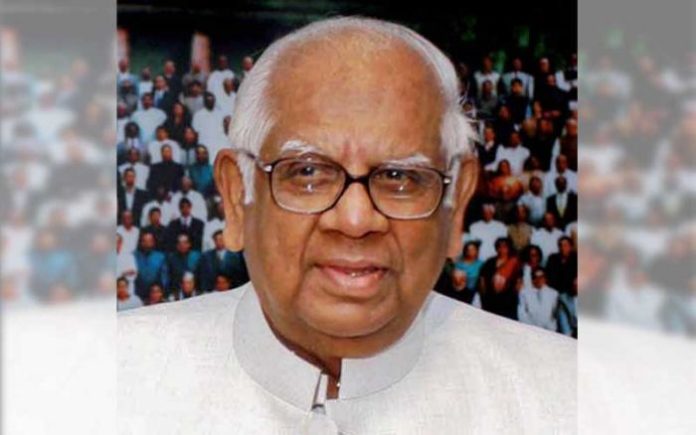 Former Lok Sabha Speaker Somnath Chatterjee passed away at a private hospital here on Monday morning following multiple organ failure, a senior hospital official said.
He was 89 and survived by wife, a son and two daughters.
Chatterjee passed away at around 8.15am after his condition deteriorated following Sunday's "mild heart attack", the official said.
Chatterjee was suffering from a kidney-related ailment and was admitted to the hospital in a critical condition on last Tuesday.
"He suffered a multiple organ failure and had stopped responding to treatment since late last night. He passed away this morning at around 8.15 am," the official told PTI.
Chatterjee had suffered a mild heart attack on Sunday morning, but was revived. He was undergoing treatment in the ICCU.
Last month, the former speaker had suffered a hemorrhagic stroke.
He was under treatment for the past 40 days and was discharged from the hospital just for three days after his health showed signs of improvement.
However, his condition deteriorated last Tuesday and he had to be hospitalised again, the official said.
Leaders across party lines condoled the death of Chatterjee, describing him as an outstanding parliamentarian who enriched Indian politics.
Condoling his death, Prime Minister Narendra Modi said he was a stalwart of Indian politics.
"He made our parliamentary democracy richer and was a strong voice for the well-being of the poor and vulnerable," the prime minister said.
Congress President Rahul Gandhi said Chatterjee was an institution and greatly respected and admired by all parliamentarians across party lines.
Former Vice President M. Hamid Ansari in his condolence message said, "He was a remarkable human being, an eminent parliamentarian and a very clear headed speaker of the Lok Sabha. I convey my heartfelt condolences to the bereaved family".
Condoling his death, West Bengal Chief Minister Mamata Banerjee said, "Saddened at the passing away of former Lok Sabha Speaker Somnath (Da) Chatterjee. My condolences to his family and admirers. This is a great loss for us all".
Governor K.N. Tripathi also expressed heartfelt condolences at the passing away of Chatterjee.
CPI(M) leader Sujan Chakraborty said, "It's a big setback for us. Today, West Bengal lost its guardian. Its a big loss to the nation."
A 10-time Lok Sabha MP, Chatterjee was a central committee member of the Communist Party of India (Marxist), which he had joined in 1968.
He was the Speaker of the Lok Sabha from 2004 to 2009.
The veteran leader was, however, expelled from the CPI(M) in 2008 for refusing to resign as Speaker after his party withdrew support to the UPA-I government.