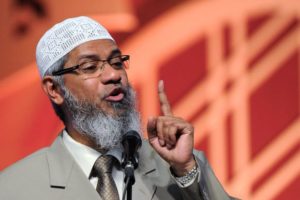 THE UNION HOME Ministry has served a notice on Islamic preacher Zakir Naik's NGO, Islamic Research Foundation (IRF) over cancellation of its Foreign Contribution Regulation Act (FCRA) licence.
The cancellation notice was the next logical step after Naik's NGO was put under the 'prior permission' category on August 8, a report in The Hindu said.
Another NGO run by Naik, IRF Educational Trust, has also came under a punitive action. The ministry put the educational trust also under the 'prior permission' category. The NGO cannot receive any foreign fund without the clearance of Home Ministry.
A TOI report quoting official sources said, the move came after different investigations found Naik to be "involved" in utilising funds meant for the NGOs for alleged radicalisation of youths and "inspiring" them into terror activities.
Media reports said at least two terrorists involved in the attack at a Dhaka cafe in July were followers of Mr. Naik's speeches.
The Ministry has also initiated another procedure to declare IRF as a terrorist organisation under the Unlawful Activities (Prevention) Act.
Maharashtra Police has also registered criminal cases against Naik for his alleged involvement in radicalisation of youths and luring them into terror activities, according to reports. With inputs from agencies