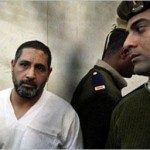 A court in Egypt has sentenced an Egyptian Muslim to death for killing six Coptic Christians and a Muslim policeman earlier this month.
The man, identified as Mohamed Ahmed Hussein, was found guilty of shooting the group outside a midnight Mass for Coptic Christmas in Naga Hamady, southern Egypt.
Reports said the attack was thought to be revenge for the alleged rape of a 12-year-old Muslim girl by a Christian man.
The court ruling comes two weeks after a suicide bomber killed 23 people at a Coptic church in Alexandria.
Full coverage: Attacks on Coptic Christians
Reports said Hussein, also known as Hamam Kamouni, was found guilty of 'pre-meditated murder' of the seven dead, and with 'intimidating citizens.'
Two others who were charged with Hussein are also on trial for the shooting. The court said the verdict against them would be announced next month. All three pleaded not guilty.
Reacting to the court verdict, Anba Kirolos, the Coptic bishop of Naga Hammady, said his congregation was 'satisfied' with the ruling.
However, defense lawyer Alaa Abu Zeid said the trial had been influenced by the Alexandria attack.
Coptic churches in Egypt have been on high alert since the January 6 bombing. Coptic Christians make up 10 percent of Egypt's 80 million population.
Egypt's Copts have often complained of harassment and discrimination, and argue that attacks on them go unpunished or result in light sentences.
Twenty-three people were killed and 70 injured as worshippers were leaving midnight Mass at al-Qiddissin church to bring in the New Year.
The attack was condemned in Egypt and abroad. President Hosni Mubarak said it bore the hallmark of 'foreign hands' seeking to destabilize Egypt.
While no group has said it carried out the attack, and there has been little progress in the investigation, reports indicate that a little-known local Muslim fundamentalist group was behind the suicide attack.
Full coverage: Attacks on Coptic Christians