By Robin Sam
THEY live in a nondescript village in Chhotta Udaypur district, 120 km away from Baroda in Gujarat. Prince Joseph Chellakumar has done his Ph.D. in Socio-Linguistic Study of a Minority Language. Prince and his wife, Jennitha, work among the Rathawa people, a tribal group. A few of them now profess their faith in Christ. Vishwasi Bhakti Mandal, an indigenous church group registered by the community people, has seven churches among the Rathawa people.
The Rathawa people group is classified as belonging to Scheduled Tribes. Although it has not been officially recognized by the Government of India, Rathawi is spoken by both children and adults within their villages. Having the Scriptures in Rathawi would strengthen the Rathawi churches. Prince Joseph and Jennitha are part of a Bible translation organization based in Assam. This interview was done a little over two years ago. Excerpts from the interview with The Christian Messenger editor.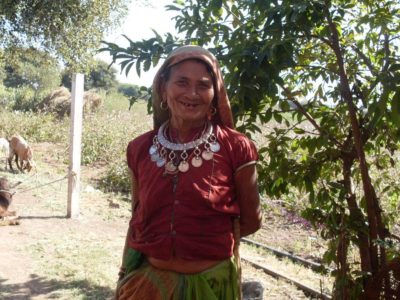 How did you choose this particular tribal people group?
Prince: My parents wanted me to go to missions. They encouraged me about it from my childhood. And, I made up my mind about it when I was in class 12. Later, when I was doing my B.Sc., I was pondering over what ministry I need to be in. So I prayed and told God, 'If I get admission into Linguistics for my post graduate degree, I'll take it as a confirmation that You want me to get into Bible translation.' And, yes, I got into M.A. Linguistics. After that, I was praying to God to show me the language that I had to work on. I was always interested in visiting places and meeting people. I was working with New Life Computer Institute in Bangalore as their promotions co-ordinator. There, they had a team called Survey. They conduct researches on languages to see if a particular language needs Bible translation. Some languages may not need Bible translation at all, others may need the translation for the complete Bible. I was part of the team and they encouraged me to do my Ph. D. I enrolled for my doctorate and went to Gujarat to do a survey on Bhili language. Bhili is a generic term. There are so many languages under Bhili. The Bhils are in Madhya Pradesh, Gujarat and Rajasthan. In 1999, in one of my trips, I met the Rathawi people group. The Survey team works on a language for two weeks. Another two weeks is spent on writing the report. And, finally a decision is taken on whether a particular language needs translation. During my survey, we found out that there is a need for translation in Rathawi language. The research team that was with me moved on asking me to continue the survey. I made five visits to the people group and stayed for more than a month with them.
Two instances that happened around that time made me look at Rathawi seriously. Once, we were stuck at a place away from our base camp. One language helper, a Catholic by faith, who aided in my communication with the Rathawa people wanted to know why I was taking so much pain getting to know the people and their language. I shared my vision of translating the Bible into their language with him. He immediately invited me to his village. He asked me to stay with him and do the translation. In another instance, I met another Rathawa man, a graduate, who claimed he had accepted Jesus as his Saviour. He told me he was considering enrolling for a B.Ed. degree. During the course of the conversation, he said: 'If I get admission into B.Ed., I will sacrifice a goat for Jesus.' I asked him about that since in the Christian faith there is no more sacrifice required since Jesus Christ Himself became our sacrifice. From what he said I gathered that he had not really accepted Jesus Christ as his Saviour but merely accommodated Him among his other gods. One day, I also saw the Catholic man who invited me to his village worshiping Hindu gods. These instances strengthened my resolve to work among the Rathawa people.
What are the difficulties that a Bible translator faces in his task?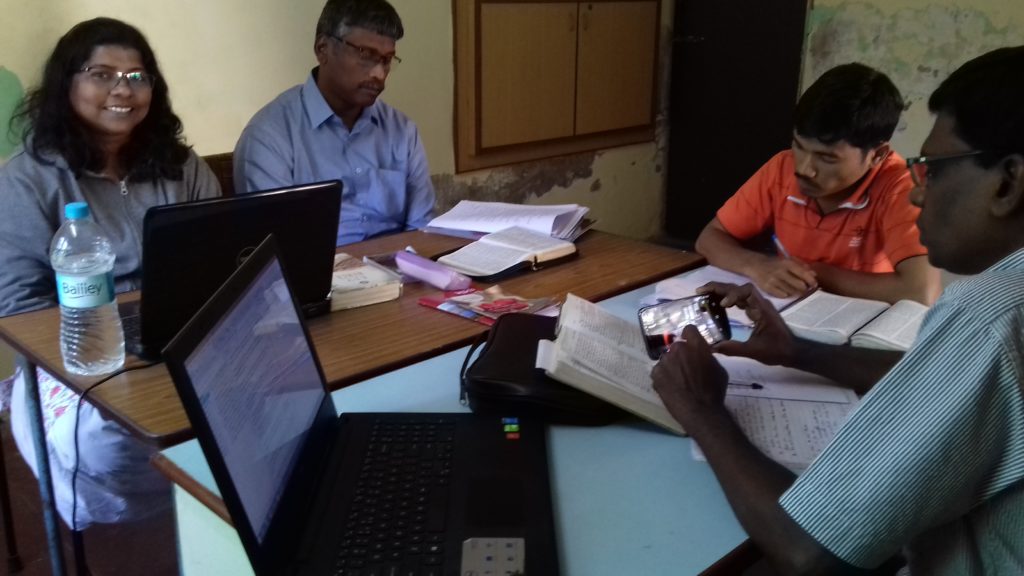 The primary difficulty is in learning the language. This is the first attempt to translate the Scriptures into the Rathawi language. The language does not have a script of its own and there is no written grammar to the language. So, we have to live with them to learn the language. The Rathawa people themselves think their language is inferior to Gujarati and as a result don't want to teach it to people like us. Their question is why does an outsider want to speak in our language?
So, how did you learn the language?
Jennitha: We went around the village, collecting stories. We just went around asking people to name objects and things. Then we spent time analysing the language and its structure. We listen to them a lot, get to know their tone and the flow of the language.
Prince: We conducted a music workshop for the believers. We encouraged them to come up with original tunes and write songs in their language. That workshop proved to be an eye-opener for them. They found out that their language is also equally good like Gujarati and that they can use it in their worship instead of Hindi and Gujarati songs. A sense of pride in their language and a sense of responsibility towards developing their language had to be instilled in them. The key is to make them realize that they can represent themselves before God through their own language. Now, they sing songs in their language using their own music instruments like piho (flute) and dol (drums)
How much of progress has been achieved in Bible translation?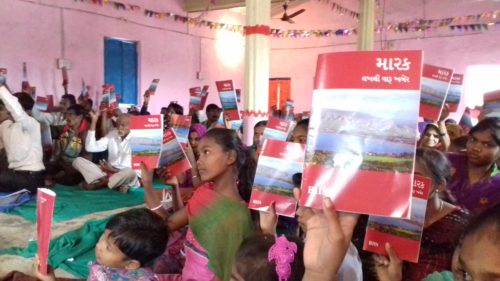 The first five years was a period of preparation. Community-wise, their literacy percentage is higher for a group classified under Scheduled Tribes but if you look at the believers their level of education is lower than the non-believers. So, to make the believers read their own language we had to conduct literacy classes. We got trained with SIL (Summer Institute of Linguistics, Wycliffe India) where we were taught how to take literacy-based classes based on church literature. Around 70-odd people attended the literacy classes for 21 days. To make them familiar with their language through the Gujarati alphabet, we made story books with just one sentence on a big page with pictures. On the third day of the class, they would be able to read the sentences quite easily. By the grace of God, we were able to dedicate the Gospel of Mark in December 2017. This is a trial edition and we are awaiting feedback from the readers. The Gospel of Mark is also available in Rathwi in audio format. This is copied into the SD card and given to those who ask for it. Besides Mark, we have also completed Matthew, Luke, John, James, Philemon, 1 John, 2 John and 3 John.
When you are in the mission field, do you see yourself as a missionary or as a Bible translator?
Till now, since we were working on the translation project we have limited ourselves to the role of Bible translators. But, yes, we also realise the calling upon us is to share the Gospel, God's word to people. And, whenever God gives us an opportunity we do that especially among children.
Is there a lot of anti-Christian sentiment among the Gujaratis?
Prince: There's a perception that Christianity is a foreign religion. That they make you eat beef and that it's a religion of low-caste people. Of course, the RSS camps are engaged in a lot of training of young minds. There used to be a lot of opposition to evangelism and Christianity earlier. In 1999, several churches were destroyed in south Gujarat. Now, it has come down. Things have changed.
Jennitha: Because of the presence of a large number of Catholics in the State, people look at Christianity through the lifestyle of the Christians. They think all that the Christians do is drink wine and eat beef (laughs).
Is open air evangelism possible in Gujarat? Like distributing tracts on the roads and open-air preaching…
Prince: Yes. It is possible. There are a lot of avenues open for evangelism. I know friends in Ahmedabad and Baroda who do open air preaching, besides prison and hospital ministries.
When would the average Rathawa people get to see the New Testament in their own language?
We're looking at 2022.
Are you also working on Proverbs and Psalms to make them available along with the Rathawi New Testament?
Prince: No, not now. The local translator should be familiar with the names mentioned in the Old Testament. Our local translator has only recently started reading the OT. Another thing that we have come up with is story telling. There are around 14 stories that we have culled out from the Bible. The local translator goes around teaching the Rathawi pastors these stories every week. This is to make the pastors familiar with Bible characters like Abraham, Isaac, Jacob and others, and they in turn can teach their congregations about them.
Jennitha: Actually, we are in not in favour of waiting till every book is translated. As and when a book is completed we would like to get it out.
How do you raise funds for your work?
We send newsletters to people we know. In the newsletter, we tell them about our work and the progress of the project. In between we had to stop the newsletter because of the construction of our house in the village. At that time, people called us up and demanded to know why we had stopped the newsletter. People who receive the newsletters pray for us and when God leads them, they help us. Two churches from south India support us. Some of our friends also pitch in with their contributions.
Jennitha: Like they say, God's work done in God's way will never lack God's resources.
If you were asked to do it all over again, would you do it?
Jennitha: If God leads us towards another language and another people group, we will surely go.
Prince: Bible translation is actually impacting the people. They can directly hear God's voice through their own language. It's really a great opportunity that God gives us to be able to serve Him this way. If God asks us to go to another place and people, yes, we will do it. We have moved from Delhi to Bangalore and from Bangalore to Gujarat. People ask us: 'What's your next stop?' God has shown us till now. He will, in future, also.
What next?
Prince: We're looking at getting the Jesus film into the Rathawi language. An organization that does dubbing of the film into local languages has reached out to us. Now, we have to make ourselves available for them.
To know more about their ministry, the couple can be contacted at princesjenny [at] gmail [dot] com