By Robin Sam
YOUR life in Christ and Christ living in you has remarkable ramifications.
First off, it's not an unattainable thing. If it were so, our Lord would never have made Apostle Paul write Colossians 1:27 and 28 verses. 'To them God willed to make known what are the riches of the glory of this mystery among the Gentiles: which is Christ in you, the hope of glory. Him we preach, warning every man and teaching every man in all wisdom, that we may present every man perfect in Christ Jesus.'
Christ in you and you in Christ is a sure, attainable experience. It's not a fanciful idea nor an enigmatic concept. It's dying to your self a thousand times a day. And, this happens every day. Every day, you are asked to pick up your cross, deny your self and follow God for Christ sake (Matthew 16: 24). Luke 9: 24 has the same verse but adds an extra word in it – daily.
What exactly is this denying self for Christ?
* When you want to give a smart but nasty retort to someone who has said mean things to you, DENY YOUR SELF.
* When you think that child of yours is hopeless and you want to throw in the towel, DENY YOUR SELF.
* When you see your marriage going nowhere and you want to walk out of it, DENY YOUR SELF.
* When you want to gratify your flesh and pander to its sordid cravings, DENY YOUR SELF.
* When you see the wicked prosper and the righteous in want, and you begin to think if your faith is worth it, DENY YOUR SELF.
* When your prayers are becoming fainter every day because the answers seem so far away, DENY YOUR SELF.
* When your work is not only not rewarded but people are cutting the ground under your feet, DENY YOUR SELF.
* When people ride roughshod on you and your self esteem is battered, DENY YOUR SELF.
It's when you deny your self, that the Spirit of God who resides in you soars above telling all heavenlies that He has found a likeness of Jesus Christ on earth. And, who do you think is the likeness of Christ? It's you, who denied your self for Christ sake.
That's when the Father is well pleased in the child that came to Him through the adoption in Christ (Ephesians 1:5).
That's when God grants your requests so He may be glorified in you through His Son (John 14:13).
That's when the Son of God smiles and says: "The cross I carried was worth it all. The blood I shed was worth it all."
I urge you to try putting it into action this month and see the results for yourself. I pray you will uphold us and our ministries in your prayers.
---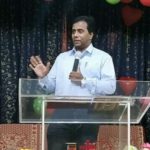 Robin Sam is a preacher, Bible teacher and missions worker. He works in Messenger Missions, a Gospel proclaiming ministry and edits The Christian Messenger magazines in English and Tamil.