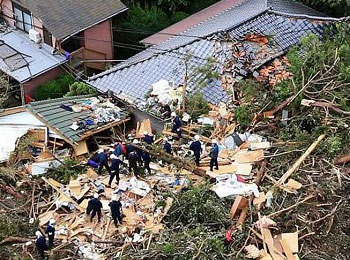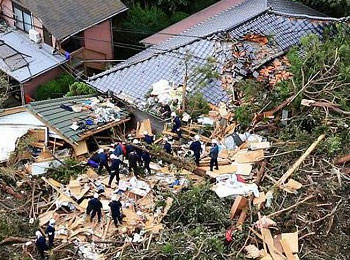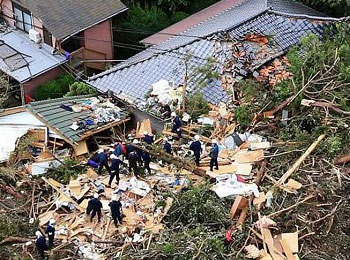 IN Japan, at least 17 people are dead and 50 more are missing in the aftermath of a powerful typhoon.
Packing winds of more than 110 miles per hour, Typhoon Wipha caused deadly mudslides that destroyed dozens of homes on the Japanese island of Izu Oshima, south of Tokyo.
The storm paralyzed Tokyo's public transportation. Flights were also cancelled, leaving hundreds of passengers stranded.
"People on this island are somewhat used to heavy rainstorms, but this typhoon was beyond our imagination," Yutaka Sagara, a 59-year-old sushi chef on the east coast of the island, said.
Town officials have not been able to determine the extent of the storm's damage.
The typhoon is expected to hit northern Japan later this week.
Elsewhere across eastern Japan, hundreds of flights were cancelled, schools were closed, thousands of people were advised to evacuate areas at risk of flooding and railway services were severely affected during the morning rush hour.
Thirteen of the dead were on Oshima Island, 80 miles south of Tokyo, which felt the full force of the storm and received more than 4 inches of rain an hour at the peak of the typhoon. Several other island resident are still missing, some beneath 30 houses that collapsed, according to Kyodo News, while two teenagers are reported to have been swept out to sea in Kanagawa Prefecture, south of Tokyo. With inputs from Reuters