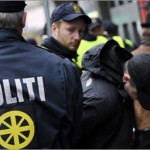 THE head of Denmark's intelligence service has said his agents have foiled an 'imminent terror attack' being planned by 'militant Islamists'.
According to him, five men were planning to shoot as many people as possible at the newspaper that published cartoons of Muhammad. Four of the men were arrested recently in raids in suburban Copenhagen while Swedish police arrested the fifth in Stockholm.
According to police, the Danish security service had been watching the men for several months. Some of the suspects were linked to international terror networks. More arrests were possible. Police also seized a submachine gun, a silencer and ammunition in the raids.
Danish prime minister Lars Lokke Rasmussen expressed shock at the plot. However, the threat of terrorism he said must not lead Denmark to change its open society or its values such as democracy and freedom of speech.