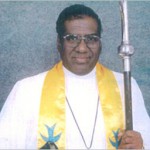 THE Church of South India (CSI), the second largest Christian congregation in India, is said to be under the scrutiny of the Income Tax department for alleged misappropriation of funds and properties.
The CSI has been in the news for sometime now after the IT department asked the church office to provide information on foreign donations received by it. The IT department is said to be particularly keen on knowing about the cash inflow received through the Tsunami Relief Fund set up by the church.
Although the office of the deputy director of the income tax department, Chennai, had reportedly sent the notice in this regard to the treasurer of the Church of South India Trust Association (CSITA), it had not yet furnished any details of the money received, said a report in the Deccan Chronicle newspaper.
The report said: "In the notice, the I-T department asked CSITA to give details of foreign donations spent by its central office and all the dioceses and of foreign donations received under the Tsunami Relief Fund and how the money had been used.
"The notice also asked about costs debited in the Synod account for construction of the LIT auditorium at Kilpauk, details regarding sale of properties at Kodaikanal including American College and information related to bank accounts maintained by various dioceses and synods.
"The department had also asked to submit information on amounts received towards 'Gujarat Earthquake Relief Fund' and how it was spent, and details of rent collected from commercial buildings by the Karnataka Northern Diocese."
With the church body receiving adverse reportage in the media, it now remains to be seen whether it will provide all details asked for by the IT department.
Follow The Christian Messenger on Twitter | Facebook