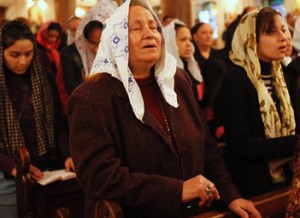 MOMENTS AFTER THE explosion rocked her church Sunday morning, Mona Faiez's phone rang. It was her sister, checking to see if she was alive.
She was unhurt; she wasn't at the church, where 27 now lay dead and scores more were injured. But alerted by the call, she rushed toward it. These were her fellow parishioners, her closest friends.
"What kind of human could do this," she asked, "and why?"
Less than three hours later, a suicide bomber detonated his explosives at the entrance to St. Mark's Cathedral in the northern city of Alexandria, killing 17 and injuring many more. The dead included three police officers who stopped the bomber from entering the site. The head of Egypt's Coptic Church, Pope Tawadros II, was presiding over Palm Sunday Mass at the church, also packed with worshipers, but he was unharmed.
By Sunday night, President Abdel Fatah al-Sissi had declared a state of emergency across the country for three months.
Altogether, at least 44 people died and more than 100 were injured in the two attacks, the deadliest single day to strike Egypt's Coptic Christian minority in decades. The Islamic State asserted responsibility for both bombings through the Amaq News Agency, which is affiliated with the Islamist militant group. World leaders, including Pope Francis and President Trump, condemned the attacks.
Here in Tanta, 80 miles north of Cairo, Faiez said she reached St. George's Church shortly after 9.30 a.m.
Her closest friend, Soliman Shaker, was a church deacon in his 60s. He was preparing for his daughter's wedding in a couple of weeks. The bomb, police said, had been planted in the church's pews. But witnesses said a suicide bomber was in the pews when he detonated his explosives.
Shaker was dead.
"I ran to the church to find my lifelong friend shattered to pieces by the bomb," said Faiez, 61, who lives nearby.
Sunday's assaults threaten to further alienate the country's Coptic Orthodox community, which makes up 10 percent of the population. For decades, Egypt's Copts have felt discriminated against by the country's Muslims, and assaults against them have intensified since the 2011 revolution — part of the Arab Spring uprisings — that ousted President Hosni Mubarak.
Christians largely supported the rise of Sissi, who came to power after the overthrow of elected Islamist President Mohamed Morsi in 2013. After taking office, Sissi launched a brutal crackdown on Islamists that was supported by many Christians.