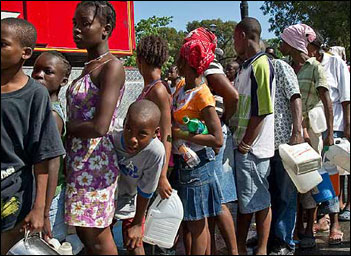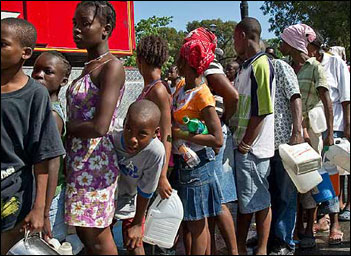 CHILDREN, teens and adults of a variety of races, languages and physical abilities packed more than a quarter million meals for Haiti in the parking lot of The Crossing Church.
The volunteers stood in more than a dozen pre-stocked assembly lines Nov. 5 and filled sealable plastic bags with a mixture of rice, lentils, dried vegetables, vitamins and mineral-rich Himalayan pink salt.
Tables, equipment, ingredients, bags, packing boxes and an intermodal container were delivered to the church and set up in advance by Feeding Children Everywhere, a non-profit humanitarian organization founded in 2010 by 39-year-old Donald Campbell of Sanford.
"Our core belief is that people can change other peoples' lives, and we want to provide a vehicle to do this," Campbell said in a telephone interview.
The 2,000 Tampa volunteers plus 150 counterparts at the church's Celebration campus packaged the meals, which will be sent to Port-au-Prince, Delmas and Saint-Marc, Haiti.
Each bag holds enough to feed six people. The nutritious concoction will keep for a year and can be boiled or simmered in water.
Norris Brown, The Crossing Church director of missions, said the church wants to help not in a "hit-and-run but a long-term way. By doing that, a culture does change. They feel the love of Christ and it empowers them to believe in themselves."
Brown said the church is not neglecting the local community. The Crossing supports Feeding America Tampa Bay, ECHO, Amazing Love Ministries Inc., Metropolitan Ministries and Clair-Mel Elementary School.
"The church has been a great, major business partner with Clair-Mel Elementary School for more than five years," school Principal Shelly Hermann said.
On Oct. 29, about 300 volunteer members of The Crossing Church sponsored an all-day Clair-Mel block party. They cut hair, mowed lawns, washed cars, manicured nails, performed medical screenings, distributed bags of groceries and gave away clothing and household items to more than 200 families, Hermann said.
Unfortunately, in Haiti, distribution of goods can be more difficult.
Food may be used as currency with which men with trucks and guns buy boys and girls for soldiering and prostitution, Campbell said.
To combat these obstacles, The Crossing Church is "working with people who have relationships with people in Haiti," said the Rev. Greg Dumas, pastor. Tampa Bay Online

Know God | Who is Jesus Christ | How is Jesus Christ unique? | Who will be saved?
Track The Christian Messenger on Facebook | Twitter