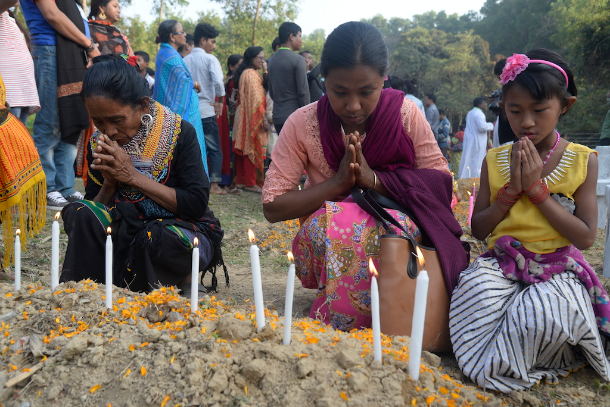 IT'S been 500 years since Christian missionaries stepped into Bangladesh to preach the Good News.
At a meeting held in the courtyard of the Bishop's House adjacent to Holy Rosary Church in Patharghata in Chittagong city on February 8, the first settlement of Portuguese Catholic merchants in Bangladesh in 1518 was fondly remembered.
At the invitation of Metropolitan Archbishop Moses M. Costa, C.S.C., of Chittagong Archdiocese, people from various faiths came together to celebrate 500 years of Christianity in Bangladesh.
Vatican ambassador to Bangladesh, Archbishop George Kocherry and Archbishop Costa spoke on the occasion.
"Peace and harmony are the religions of all religions. We are always trying to spread the message of peace and harmony, not just this Chittagong or Bangladesh. Not only Christianity, but we all live together in all religions. This peace and harmony is not just for the people on the top floor, it is also spreading at all levels of society, at the bottom. People can understand the word of religion," said Archbishop Kocherry.
In his message, Archbishop Costa said, "Five hundred years ago, the believers came to East Bengal through this Chittagong. Last year, we celebrated it through a variety of events. We have prayed that the faith in God be stronger in us. We have prayed that we are neighbors of religions. The harmony between us is going on."
"This concluding ceremony is not end of all. We can work together for the poor, for the victims of discrimination in society. In this society, there is still discrimination between the rich and the poor. We can work together to prevent this discrimination- that is our prayer to God," said Msgr. Costa.
More than 8,000 Catholics, 100 priests, 120 nuns and 10 bishops from all over the country including Bishop Lumen Monteiro of Tripura, a northeast Indian state attended it.
"We are grateful to God and our pioneers and early missionaries who brought faith to Bangladesh. Five hundred years ago, more than 600 Christian martyrs' laid down their lives and witnessing Christian faith for centuries," Mathew Corraya, a local Christian lay leader, said.