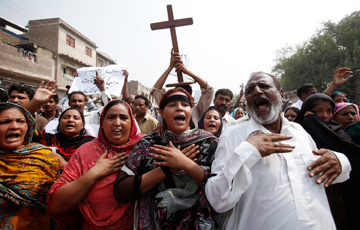 HUNDREDS of angry Christians today hit the streets across Pakistan in protest against the Taliban suicide attacks on two Lahore churches, leading to communal clashes which claimed two lives, forcing authorities to call in paramilitary forces to maintain calm.
In one of the worst attacks on the minority community in recent times, two Taliban attackers blew themselves up at the gates of Roman Catholic Church and Christ Church in Christian- dominated Youhanabad area of Lahore during Sunday mass, killing 16 people and injuring 80 others.
Authorities had to call in Rangers to maintain law and order in Youhanabad today.
Hundreds of Christians gathered at Ferozpure Road and blocked it for several hours. The violent protesters damaged public property and pelted stones on the police.
Police said protesters also blocked roads in Lahore, Faisalabad, Sargodha and Gujranwala.
A speeding car driven by a woman ran over five people, killing two of them and leading to violence in Lahore. Police tried to disperse the protesters but failed to control them.
About a dozen people suffered injuries in the clashes. "As the police failed to control law and order situation in Youhanabad the Rangers have been called in who took over security control," the officer said.
He said the Rangers would remain deployed in Youhanabad and adjacent localities until situation normalises.
Christian community leader and federal minister for shipping Kamran Michael said all Christian schools would remain closed today as prayer services and funerals for the victims were held.
Michael, the leader of Pakistan Muslim League-Nawaz, appealed to fellow Christians to remain peaceful, a day after angry mob killed two men and burnt their bodies on suspicions of being linked with the bombers.
Punjab Chief Minister Shahbaz Sharif has constituted a joint investigation team to probe the matter of lynching of the two men who the mob mistook as terrorists' accomplices.
"No one can be allowed to take law into his hand. The killers will be brought to justice," Sharif said.
The Lahore Police today registered two cases in connection with the blasts. Prime Minister Nawaz Sharif has condemned the attack and called it a cowardly act.
Interior Minister Chaudhry Nisar Ali Khan said government will not spare the militants involved in the blasts.
Tehreek-e-Taliban Pakistan splinter group Jamatul Ahrar claimed responsibility for the attacks on churches.
The minority communities in Pakistan have long been the target of attacks by extremists and militant groups.
In 2013, twin suicide attacks were carried out at the All Saint's Church in Peshawar's Kohati Gate area, killing 80 and wounding over 100 others. PTI