Christians in Yogi Adityanath's turf look towards peaceful Easter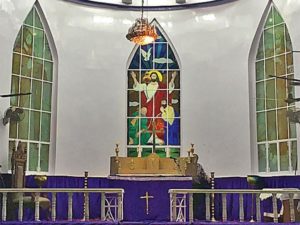 The market's name is a giveaway — Padri Bazaar. Adjoining it is a locality of Protestants. They are part of Gorakhpur's 10,000 Christians, most of whom live in the north of the city in a colony called Basharatpur.
How do they see Yogi Adityanath's ascension? "We are very happy with his elevation," says Reverend Sanjay Vincent, dean of the 194-year-old St John's Church. It is the biggest Protestant church in UP, and one among seven in Gorakhpur district. The church insists it does not influence the electoral choices of the laity. "People are free to choose across political parties. The Bible says that rights come from God — so we too revere our leaders as God has bestowed this right unto him. We have this practice of praying for our leaders. We are in the period of 40-day fasting; the prayers will go on till April 15," says Vincent.
Does that mean the church prayed for Yogi? "Long before the Vidhan Sabha elections, the prayers had begun at the church. Our congregation has congratulated him as well. We expect him to treat everyone without discrimination as he is the CM of not just Hindus but Muslims, Jains, Christians and Parsis."
But Adityanath has a record of conversions in the past. Points out Vincent: "Lakhs of Christians throng Allahabad during the Magh Mela. We are elated to see them finding salvation in the Ganga. But to leave one religion or force anyone to another is a betrayal to the Almighty. We have Hindu staff members in the church; they do their job and follow their religion. We take good care of them but never think of converting them."
Christy Rufes, who is training to be an airhostess, says: "We are happy at Yogi's elevation but he must contain his clout. For the first time in the history of the church, last Christmas, slogans of Jai Siya Ram were raised allegedly by his Hindu Yuva Vahini boys outside the church. Such incidents must never happen."
Easter is on April 16. "We will see if the celebrations take place peacefully before making any judgment on Yogi," says Hasting John, who is part of the security staff at the church. Amen. Economic Times
Short URL: http://www.christianmessenger.in/?p=8629
Posted by
The Christian Messenger News Desk
on Mar 27 2017. Filed under
India
. You can follow any responses to this entry through the
RSS 2.0
. You can leave a response or trackback to this entry