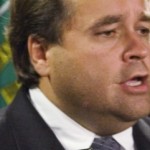 A Christian TV show, Word TV, produced by Charles McVety, an evangelical pastor, has been taken off air after an industry watchdog ruled that the programme had discriminated against homosexuals.
Supporters of the pastor, however, decried the shutdown saying it was an act of censorship.
Condemning the ruling, McVety said it was a "gross breach of democracy" and "reminiscent of totalitarian regimes of the past."
The pastor told a news agency that he was never contacted during the investigation process. He was also told that there will be no room for an appeal.
"I'm being persecuted by a bureaucrat who thinks he has the power to convict someone of a breach of his standards without a trial, without a hearing from me, without any due process, and based on completely ridiculous grounds," he said.
After the Canadian Broadcasting Standards Council (CBSC) ruled in June this year that the programme put had violated code of ethics, Crossroads Television System, a Christian broadcaster, took the show off the air.
The CBSC panel, which released the decision on December 15, rebuked McVety for claiming that the homosexual movement was driven by a 'conspiratorial' agenda and suggesting that they prey on children.
The charge against McVety, according to the panel, is that he described the Pride parades as 'sexual perversion' and 'sex parades'. The panel also chastised him for saying that Toronto was being advertised as a 'sex tourism destination…with full opportunity for sex with hot boys."
Interestingly, an ad currently on the Tourism Toronto website targeted at the gay community says that "Every visit to Toronto should begin with some people watching in the gay village. Hot boys  and hot girls fill Church Street with energy, passion and opportunity."
McVety had also said that homosexual activists seek to indoctrinate children "because unfortunately they have an insatiable appetite for sex, especially with young people."
Campaign Life Coalition national president Jim Hughes condemned the ruling, and stated:  "As Christians, we have genuine concern for all people, including homosexuals. That's why it is so important for us to tell them their lifestyle is dangerous. ..With all the garbage that's on TV, the censor boards dare condemn a man for expressing traditional, long-held, and widely-shared Christian teachings on sexuality?"