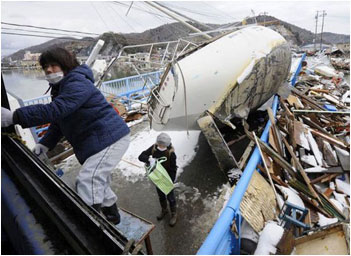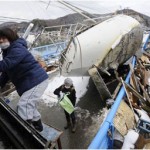 AS relief efforts to help local communities and churches intensify more than one week after the quake, hope is still strong for survivors and their loved ones as fresh news of rescues and reunions filters through.
According to a news release from CRASH disaster relief agency, Okamoto Hiroshi, pastor of Ishinomaki Bible Baptist Church in Sendai, was feared lost when contact was cut following the tsunami.
"No one had been able to locate him," said Tim Cole, a missionary in Japan whose parents planted the Ishinomaki church. "The tsunami decimated the area they were living in."
After repeated attempts to make contact, Hiroshi was located by a CRASH Japan relief team. "They went and found him," explained Cole. "Miraculously, his house was one of the only ones in the area not affected."
CRASH said acting quickly at the time of the quake, Hiroshi was able to drive around the houses of his congregation and rescue those living in low lying areas. Taking any who needed help to higher ground, Hiroshi's church, which stands on a hill, is now home to both his family and his congregation.
A third team left from the CRASH Japan command center in Tokyo today, ready to deliver assistance and support.
CRASH said its Japan team members were also present to witness survivors being pulled from the wreckage of their home in Sendai. Attracted by the shouts of emergency workers and those trapped in the house, Ken Ito and others saw Sumi Abe, 80, and her grandson Jin being rescued despite days trapped in the freezing wreckage of their family home.
"We're working with local pastors, and I personally went round local houses asking what they needed," said Ito in the news release.
CRASH Japan's efforts to reach those most in need continue, with resources still desperately needed to help relieve the crisis still unfolding in Japan.
Christian Relief, Assistance, Support and Hope (CRASH) is a network supporting Christians to do relief work in Japan and around the world. CRASH equips and prepares churches and missions to be there to help their communities when disasters strike, and coordinates Christian volunteers to work with local ministries in the event of a disaster. ANS
For more information, visit CRASH

Japan quake, tsunami and nuclear radiation threat: Full Coverage

Follow The Christian Messenger on Twitter | Facebook