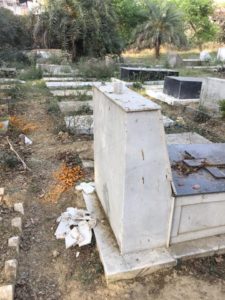 In Allahabad, graves in the Rajapur cemetery were found vandalised, upsetting the Christian community of the city.
Community members have alleged that delinquents often trespassed the cemetery to drink, gamble and indulge in immoral activities, as Hindustan Times reported.
People have shared photos and videos of the desecrated graves on social media and the Allahabad Heritage Society has appealed to people to come forward to help restore the graves.
As can be seen, crosses have been broken, and epitaphs of nearly a dozen graves have been smashed.
No one has been directly linked to this act of vandalism so far.
Abhinav Joy Zaidi was the first person to spot the broken graves when he went with his wife to the cemetery to visit his grandmother's grave.
He spotted a group of hoodlums there taking drugs, who also passed inappropriate remarks as he passed by.
The cemetery's caretaker, Sanjay Alfred, said that some miscreants were spotted by the security guard on the day before Holi. Senior authorities of the graveyard have also been informed of the incident and a formal complaint will be registered after consulting with them. The Quint