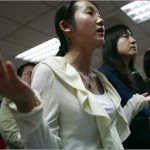 CHINA has launched a crackdown on 'house churches' and Protestant organizations not sanctioned by the 'patriotic' church organization.
Authorities have allegedly labeled the house church movement a 'cult', US based China Aid Association (CAA), a group that advocates for Chinese Christians, said.
The latest crackdown on house churches was ordered on Dec 1 by the Communist Party Politburo, according to CAA.
Chinese security officials have been asked to collect information about house churches throughout the country and submit the reports to authorities. A long list of church leaders and influential believers, whom authorities see as anti-national, has been drawn up.
China encourages Catholic observances through a state-controlled Catholic 'patriotic' organization. Some five million people are said to be members of this organization. However, an estimated 12 million Roman Catholics loyal to the Pope rather than the state-appointed leadership meet in underground churches.