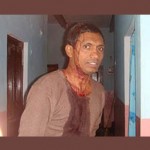 A Catholic priest working among tribal people in Satna, Madhya Pradesh, was attacked by a group of armed men a few days before Christmas.
Father Thomas Chirattavayalil of Satna diocese of the Catholic church, who was posted in Odagady a remote mission station, was attacked at midnight of December 16 by masked men wielding weapons.
Speaking to the media, Fr. Chirattavayalil said: "They tried to kill me, but after they injured my head I ran out of the parish house. They chased me around the church and continued to beat me."
"One of them asked me not to shout. Hearing my cry, my driver and cook tried to help me but the attackers had closed their doors from outside," he added.
The priest escaped death after he ran out to the house of a local panchayat member. He sustained two deep wounds on the head besides injuries on several parts of the shoulder and body.
According to the Catholic Bishops' Conference of India, an FIR has been registered in Burgama police station.
Fr. Chirattavayalil hails from Pala in Keral and was ordained as a priest 16 years ago.