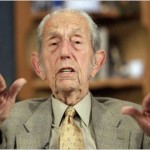 DOOMSDAY preacher Harold Camping whose earlier prediction that the world will face end on May 22 predictably failed, has now come up with another prediction considered by many Christians even more bizarre this time.
Camping predicted on May 30 that corpses of the 'unsaved' will be flung out of their graves and on the ground like 'manure' on October 21.
Camping's comments during the Open Forum program on Family Radio comes a week after he publicly recanted his predicted date of Rapture, changing it from May 21 to October 21.
He maintained that his earlier prediction of May 21 being the Judgment Day was right. The only adjustment in his forecast, he said, is that the judgment on May 21 came in a 'spiritual' sense.
Judgment Day on May 21 did come, he asserted. However, the Judgment Day arrived in a spiritual sense rather than manifesting in a physical Rapture, he claimed.
He predicted that whatever of a person's corpse is left in the grave on October 21 "will be thrown out of the grave" and be "like manure on the ground." Furthermore, those who die on October 21 won't receive a burial, said Camping.
"They will be shamed in the eyes of God," he said.
Follow The Christian Messenger on Twitter | Facebook