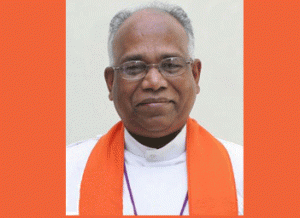 THE Church of South India got a new moderator when Bishop Gnanasigamony Devakadasham, head of the Kanyakumari diocese, was elected by a margin of 94 votes.
Bishop Devakadasham, who was the deputy Moderator, defeated Bishop V Devasahayam, head of the Chennai diocese, by winning 219 votes against the 125 secured by the latter at the meeting of the CSI synod, on Friday at Kanyakumari.
The 61-year-old Bishop Devakadasham joined the service of the Church in 1971 and was ordained a priest on January 11, 1981.
He was consecrated Bishop in 2001 and took charge as the fifth head of the Kanyakumari diocese. He was made the deputy moderator of the church on January 14, 2009.
Bishop Devakadasham will serve as the Moderator of the CSI for two years.
Bishop G Dyvasirvadam, head of the Krishna-Godavari diocese (Andhra Pradesh), who defeated P Surya Prakash, head of Karimnagar diocese (Andhra Pradesh), is the new deputy Moderator.
From among the laity, Mr. M M Philip (Central Kerala diocese) was elected General Secretary of the Synod for a second term. Bennet Albert (South Kerala diocese) is the new Treasurer of the Church.
Over 400 delegates including Bishops and priests from the 22 dioceses across the States of Tamil Nadu, Kerala, Andhra Pradesh and Karnataka and Jaffna province in Sri Lanka participated in the biennial meeting.