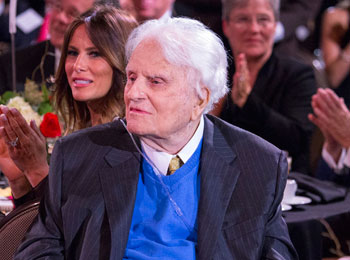 EVANGELIST Billy Graham has once again been named one of the top ten most admired men in America.
Americans picked Graham for the 57th time in an annual Gallup survey.
Gallup, revealing the results of its "Most Admired Man" and "Most Admired Woman" lists for 2013 notes:
"Graham has appeared in the top 10 list far more often than any other man, making his 57th appearance this year. He has never finished first, a spot typically taken by the sitting president, but has finished second on numerous occasions. Ronald Reagan has the second most top 10 finishes, but his 31 such finishes are 26 fewer than Graham's."
Graham recently celebrated his 95th birthday, but he's been in and out of the hospital in recent weeks and family and friends say his strength is fading.
His daughter Ruth Bell Graham recently paid him a visit and spoke about his condition.
"His vital signs are very good, he's very strong, but his body is just wearing out, you know, it's a lot of miles on that body," she said.
Ruth Graham is also writing a book about forgiveness, lessons she says she learned from her father. CBN