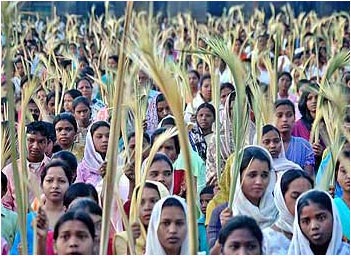 THIS much is clear – at no cost do the Christians living in Mangalore want to rake up the past. What is not clear is whether they feel any more secure than immediately after 2008, when churches were vandalised.
"We just do not want to dwell on the incident. We are here to pray for everyone and do not want to rake up the past," said a senior nun of the Poor Clares of Perpetual Adoration monastery, the centre of the gruesome attack.
A group of 10 nuns at this monastery pray besides tending to the sick at a nearby hospital. It was on a Sunday morning on September 14, 2008, that this monastery,a stone's throw from the centuries-old Milagraes Church, was ransacked, shredding the secular fabric of Mangalore, a port city and a commercial hub in Karnataka.
Service
A stay in Mangalore shows a number of hospitals and medical colleges run by Christians, and though the majority uses these, the issue of conversion seems to keep relations between the two communities on edge.
"Converting into a Catholic Christian does not happen overnight. It takes at least a year and it requires immense responsibilities and the person must have a godfather and a godmother and their commitment as well," said William Menezes, estate manager and spokesperson of Aloysius Paul D' Souza, Bishop of Mangalore. "Even if a person walks into a Catholic church and says he wants to convert, we mentor him for long before we even start the process."
A cross-section of Catholic Christians said splinter groups may take some short-cuts but those cases are rare.
"I have been in Mangalore for so many decades and I have not come across even one converted Christian," says Syble Lydia D'Çunha, an accomplished chess player and President of the Diocesan Council of Catholic Women in Mangalore.
D'Cunha raised three children in Mangalore, and said they had no problem mixing with the majority. Her kids are now grown. One is pursuing engineering in Bangalore, while two daughters study medicine and commerce in Mangalore.
She lives in an apartment complex where she is the only Christian. "We gel as good neighbours and there are no differences on community lines," she said.
Vulnerable
But not everyone is so sanguine.
A Christian family which runs a business in Mangalore – and asked not to be identified as they feel vulnerable – says there is volatility due to the 2008 attacks, though that will not make them leave their home.
"We have been here for long and we will not leave this place in fear. Of course, we are concerned about what will happen in the run-up to the elections. Sometimes, we feel let down by the political system," said the family members, who own a factory and remember the attacks in disturbing detail. "We sincerely hope it (the attack) is an aberration and it should never again happen… be it anywhere."
It is not clear if the community feels any more secure now that one of its members, J R Lobo, won from Mangalore South in the state elections last year.
With Lok Sabha elections looming, various stake-holders across the city said they were pulling together to ensure there were no untoward incidents in the run-up.
Patrick Rodrigues, director of Father Muller Charitable Institutions who runs a clutch of medical colleges and hospitals, which at any given time house at least one per cent of the 600,000 population of Mangalore, says political parties should play by the Constitution of India. "It was an unfortunate incident and we are healing." Raghuvir Badrinath in Business Standard