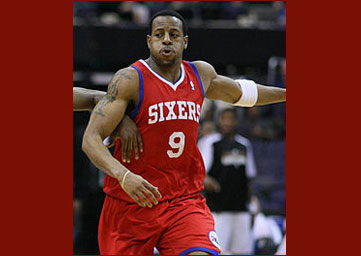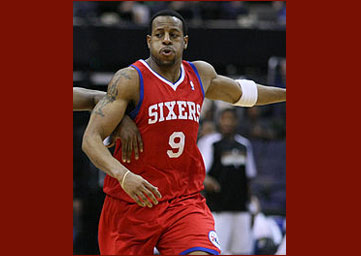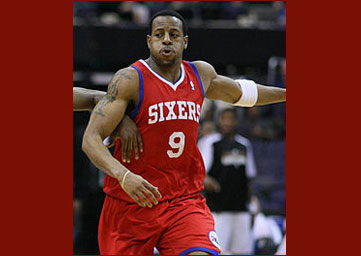 By Teresa Young
LIFE in the spotlight can be tough. Just ask any professional basketball player in America, like Andre Iguodala. The Philadelphia 76ers small forward/shooting guard has had his share of headlines, and currently he's sharing it with the USA men's basketball team tearing up the Olympic court.
But that doesn't make it easier.
"There are a lot of ups and downs with traveling and the misconceptions that come with being Andre Iguodala a professional athlete. There are a lot of rumors, and you get caught up in so many ways. You become a target for so many negative things," he says. "It can throw you off your game not just on the court but off the court as well. You need balance and something to keep you grounded."
It is Iguodala's faith, learned at an early age from his grandmother, who took him to church, that sustains him and keeps him focused amid the media frenzy.
"Faith is something I heavily lean on to give me that balance. I make sure I stay in chapel and have a good relationship with our chaplain. It keeps me focused," he adds. He has enjoyed chapels during the London Games focusing on the players' opportunities to be "salt and light" to those around them.
"When people see us on the court, we want them to see God's work. We want to be a good representation of what we believe in," he says. "When you go out there, you're not just representing your country or the NBA, you're representing your beliefs. You want to play hard for someone who died for you."
Iguodala says that faith shows in his reactions on the court and his work ethic. He says the believers on Team USA set standards high and play with integrity as they represent Christ. The chapel services held regularly help solidify their friendship and teamwork.
"That trust factor has helped create a close bond with my teammates who are regulars at chapel. It helps us on the court because we feel like we're brothers," he says.
Trust is not easy in a world fraught with contract negotiations, trade talks and issues with coaches and others. But Iguodala says having a chaplain to be a sounding board he can trust has been key to working through situations and relying on God. He notes that his relationship with the chaplain at the University of Arizona helped him return to his faith roots, and the NBA transition was made easier by teammates who encouraged him to attend team chapels as well.
"I got pretty close with those guys, and I got back on track," he says. "The last few years have really been good for me." AIA Communications