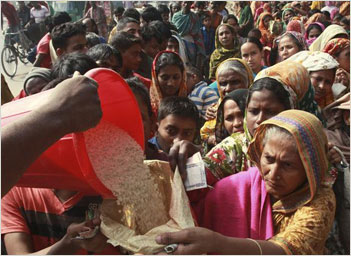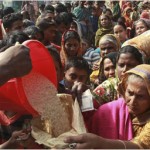 IF reports in a section of the media are to be believed the world may be hurtling towards a period of global famine like in the times of Joseph in Egypt as mentioned in the book of Genesis in the Bible.
Alarm bells started ringing after the Food and Agriculture Organization (FAO) recently warned that more than two-thirds of China's gigantic wheat crop may be under risk because of substantially below normal rainfall this winter.
According to a report in The Times of India, the affected areas in the northern plains of China produced over 75 million tonnes of China's total production of 112 million tonnes of wheat last year. However, any shortfall in Chinese production this year would have a telling effect on the availability and prices of wheat around the world.
With food prices going northward all over the world for the past six months and with production equaling global consumption any disruption in production could spell disaster and set off huge rise in prices of food items.
Already, food prices are touching the record levels set in 2008. However, what could be seen as comforting for the millions of people in India prices of rice, considered to be the world's largest staple food, are still below those levels.
Rising food prices, growing rate of unemployment and disenchantment with autocratic regimes have already resulted in an unprecedented tumult in West Asia.
Egypt has experienced an 18.5% rate of inflation that drove up prices of all food commodities, except bread which is subsidized by the government to the tune of $1.5 billion annually, the TOI report said. It attributed the food prices to be a 'major contributory factor to the uprising that dislodged the three decade-long dictatorship of Hosni Mubarak.'
Protests against high prices have also taken place in Oman, Israel and Jordan and have contributed to unrest in Yemen,Tunisia and Algeria too, the report added.
What the Bible says about famine in the end times!
Follow The Christian Messenger on Twitter | Facebook