200,000 Syrians take refuge in Turkey, Iraq and Jordan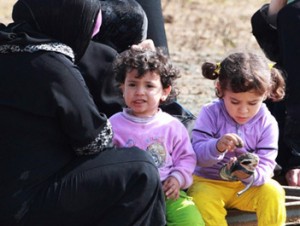 OVER 200,000 Syrians have taken refuge in neighboring countries in the last 17 months, according to a news report.
This is more than the estimate drawn up by the UN refugee agency. The U.N. High Commissioner for Refugees (UNHCR) had estimated 185,000 Syrians to flee the country by the end of the year.
At least 30,000 people have poured into Turkey, Iraq, Jordan and Lebanon in the past week alone.
"There has been a dramatic increase in the number of refugees in the region during August," spokesman Adrian Edwards said in Geneva on Friday.
The agency said it expected to issue new contingency planning figures by around mid-September.
Of Syria's neighbors, Turkey continues to see the largest refugee influx, with more than 74,000 registered as of Wednesday, according to Edwards.
More than 3,500 people fleeing violence in Syria have entered Turkey over the past 24 hours, Turkey's Disaster and Emergency Management Directorate said Friday, one of the highest daily flows since the start of the uprising.
Turkish Foreign Minister Ahmet Davutoglu said his country could run out of space if the number went above 100,000 and suggested the United Nations may instead need to create a "safe zone" inside Syria.
Turkey is expected to raise the issue at a Security Council meeting Aug 30, Edwards said.
Iraq is already home to nearly 16,000 Syrian refugees, UNHCR said.
Meanwhile, reports said Syrian troops forced rebels to abandon the Damascus suburb of Darayya after a three-day bombardment by artillery, tanks, mortars, rockets and helicopter gunships in which at least 70 people were killed. (with inputs from Reuters)
Short URL: http://www.christianmessenger.in/?p=4456
Posted by
The Christian Messenger News Desk
on Aug 30 2012. Filed under
Middle East
,
World
. You can follow any responses to this entry through the
RSS 2.0
. You can leave a response or trackback to this entry