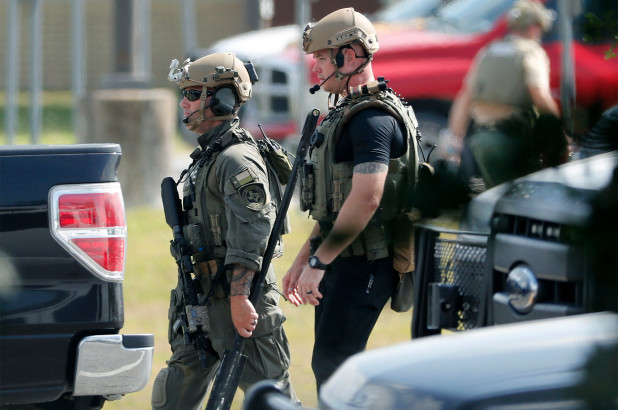 Ten people have been killed and 10 others injured after a student opened fire at a Texas high school, the state governor said.
The attacker, who was arrested and charged with murder, was identified as Dimitrios Pagourtzis, a 17-year-old pupil at Santa Fe High School.
He allegedly used a shotgun and a revolver taken from his father, who legally owned the weapons.
Most of the dead are students, police said.
Texas Governor Greg Abbott said "various kinds of explosive devices" had been found at the school, 40 miles (65km) south of Houston, and off-campus. They included "a CO2 device" and "a Molotov cocktail", he said.
Mr Abbott said police found information on the suspect's diary, computer, and mobile phone suggesting that he planned the attack and intended to kill himself afterwards.
The governor said the teenager "gave himself up" because "he didn't have the courage to commit the suicide".
Students said the shooter entered an art class and opened fire shortly before 08:00 (13:00 GMT).
"There was someone that walked in with a shotgun and started shooting," one witness told KTRK-TV, "and this girl got shot in the leg."
"Next thing you know everybody looks, and you hear boom, boom, boom, and I just ran as fast as I could to the nearest floor so I could hide, and I called my mom."
Another student, Damon Rabon, told CBS he looked out of his classroom after hearing loud bangs and saw the shooter. "Black trench coat, short kind of guy, had a sawed-off shotgun," he said.
There were 1,400 students in the school at the time of the attack, according to Lt Gov Dan Patrick.