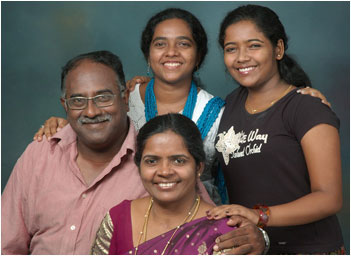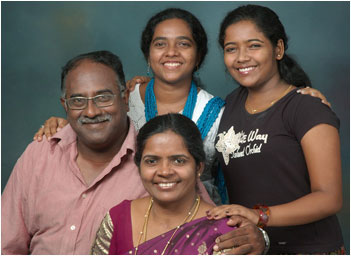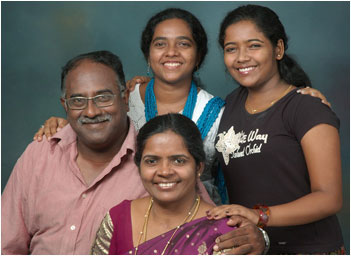 By Robin Sam
SPORTS journalists who have covered tennis professionals, the Williams sisters, Venus and Serena, often vouch for one thing: It is difficult to say which one is better at the sport. Whenever I see Naomi and Shalomi, I am reminded of the Williams sisters. These young girls from Chennai match their wits in every domain possible. Although they are exceptionally talented, they remain amazingly down-to-earth. If Naomi Christabel Johnson scored 1173 out of 1200 in the Higher Secondary School Examinations and stood first in her school two years ago, her sister Shalomi Grace Johnson has scored 1185 out of 1200 in the 2011 plus two examinations and stood first in the same school in Chennai.
She scored 200 out of 200 in Mathematics, Physics and Chemistry while securing 197, 198 and 190 in Computer Science, French and English respectively. The girls are versatile. Beyond their academic accomplishments, they also have a thing for painting and singing as sell. In 2007, the girls wowed their church by reciting all 176 verses of Psalm 119 at the annual day celebrations of their Sunday School. I spoke to Shalomi Grace Johnson recently. Excerpts from the interview:
Several of your family members have excelled academically. Your sister was a school topper in the 2009 Higher Secondary School Examinations. Your own parents are medical doctors who also have doctorates in their fields. Was there any pressure on you to perform well?
Yeah there was quite a bit of pressure on me but not too much. I, personally, wanted to score more than my sister. My parents told me that my marks don't really matter as long as I get a seat in Anna University. However my teachers kept telling me that I was capable of scoring centum in all my three majors.
Did you expect the kind of marks you have scored?
No. I totally did not expect the marks I scored. Throughout the year I didn't work that hard. I just prepared for all my tests and didn't take any extra efforts. But, towards the end of the academic year, I started studying really hard. I strongly believe that God has multiplied my efforts.
Is studying a chore or an enjoyable experience to you?
Studying is definitely not an enjoyable experience for me. But I knew that this academic year was an important one in my life. So, I forced myself to like studying. I kept telling myself that it was going to be this way only for one year. I focused on the benefits of doing my boards well. Those benefits outweighed my dislike towards studies.
I know you paint. What are some of your other hobbies? Usually, parents ask their children to put their hobbies on the backburner during examinations… how was it in your case?
Yeah I paint. I also play the keyboard and the guitar. Some of my favorite pastimes are watching TV and surfing the Internet. I played guitar in school till December but I gave up the Internet, TV and my phone during the last 2 months before my exams.
How long did you study every day? What would be your advice to students?
About 3 hours a day during the year. From January, I studied almost the whole day. We had so many model exams to write and so I had to keep revising. I used to wake up at 4 or 5 am and keep studying till 11. I'd like to tell the students to work really hard because this academic year can change your life. Don't miss tests. They boost up your confidence a lot. Above all, don't compromise on your spiritual life. Read the Bible and pray every day no matter what exam you have that day.
Despite being well-prepared, there are those who feel nervous and crackle under pressure. Were you nervous before your exams?
I wasn't nervous at all by God's grace. Each morning before the exam starts, all my friends would be studying very hard doing their last minute revisions. I'll just be sitting alone singing songs and praising God.
How has your relationship with God changed in the past one year?
Honestly, my relationship with God hasn't grown much in the past year. It hasn't declined either. It has been quite constant. There were days when I couldn't spend much time with God but I do regret the mistakes I made and always repented. I guess seeking God first will definitely give us more success than what we can achieve on our own.
This interview was published in the June 2011 issue of The Christian Messenger magazine. To subscribe, contact us at christianmessenger [dot] in [at] gmail [dot] com or 91-7299063346.
Follow The Christian Messenger on Twitter | Facebook